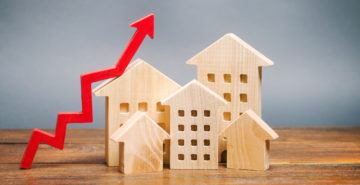 Research from Manor Interiors shows that the cost of renting for a student has increased by as much as 26% in some places.
The expert in build-to-rent furnishing solutions has found that the average student in Britain currently pays £132 per week in rent. In London this reaches as high as £152 per week.
However, when analysing the cost of renting for students over the last five years, Manor Interiors found that London is one of just two regions to see the cost paid per week actually fall. In 2017, the average London student paid £182 per week in rent but this has since fallen to £152 per week, showing a 16% drop.
Students in Scotland have seen a -2% decline in rent costs, resulting in them now paying an average of £127 per week.
Meanwhile, students in the East Midlands have seen the largest increase. The average now sits at £129 per week, which is a 26% increase in just five years.
The North West and Yorkshire and the Humber have also seen student rental costs increase by more than 20% since 2017, up by 23% and 21% respectively.
The South West (16%), Wales (14%) and South East (11%) have also seen a double-digit increase, with the North East (9%), West Midlands (7%) and East of England (3%) also seeing an increase.
Farhan Malik, CEO of Manor Interiors, comments: "An extra £11 a week might not seem that significant but every penny counts when you're a student and over the course of a year, they are now paying a considerably higher price in rent compared to just five years ago.
"The good news is that an increased cost of renting and changes to student financing have not dampened the appetite for university education and we've seen a record number of students choose to pursue a degree this year.
"Of course, more students looking to rent a limited level of accommodation is likely to keep rental prices buoyant. Great news for landlords or PBSA providers, but not so great if you're a student."
The average student rent per week and five-year change
| | | | |
| --- | --- | --- | --- |
| Location | Average student rent 2017 (per week) | Average student rent 2021 (per week) | Change (%) |
| East Midlands | £102 | £129 | 26% |
| North West | £109 | £134 | 23% |
| Yorkshire and the Humber | £103 | £125 | 21% |
| South West | £127 | £147 | 16% |
| Wales | £106 | £121 | 14% |
| South East | £132 | £146 | 11% |
| North East | £112 | £122 | 9% |
| West Midlands region | £111 | £119 | 7% |
| East of England | £128 | £132 | 3% |
| Scotland | £130 | £127 | -2% |
| London | £182 | £152 | -16% |
| England | £123 | £134 | 9% |
| Great Britain | £122 | £132 | 8% |
Data sourced from Save the Student