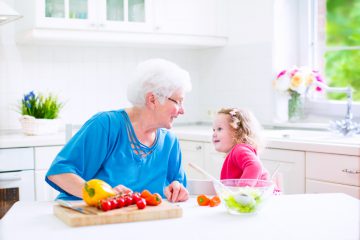 The Royal Institution of Chartered Surveyors (RICS) has urged the Government to help older people downsize in order to solve Britain's housing crisis.
Elderly homeowners that have paid off their mortgage but now under-occupy their properties have been in the news recently.
Earlier in the week, it was reported that Lynda Blackwell, Head of Mortgages at the Financial Conduct Authority (FCA) said older homeowners that "sit quite happily in a very big house"1 should be encouraged to downsize.
The FCA responded, saying it is not its policy to make older homeowners move house. Read more here: /fca-says-its-not-policy-to-get-older-people-to-move-home/
Elderly homeowners who do wish to downsize say that they are often prevented from moving because they have left it too late, they cannot face the prospect of moving house, or the cost of retirement housing is too high.
Now, the RICS has joined the discussion, stating that if older people want to move they should receive support from the Government to do so.
In its residential policy review, the RICS urged the Government to help older people who wish to downsize. It says the measure could release £820 billion of property assets, or 2.6m family homes.
It adds that all new build developments should include a compulsory proportion of affordable rental accommodation and that second-homeowners should be encouraged to sell their properties or put them up for long-term tenancies.
Head of Policy at the RICS, Jeremy Blackburn, says: "Britain's older homeowners are understandably reluctant to move out of much-loved but often under-occupied family homes.
"Clearly it's an emotive issue and one that needs to be treated with sensitivity, but we would like to see central and local government provide older people with the information and the practical and financial support they need to downsize if that is their choice."
He suggests: "This might include offering a fund to support with moving costs – Bristol City Council is already piloting a great scheme along these lines – or perhaps a Stamp Duty discount.
"Almost a third of over 55s have considered downsizing in the last five years, yet we know that only 7% actually did. Greater support for those looking to move could release 2.6m family homes."
He explains the need for more homes: "The most consistent feature of the housing market over the last 18 months has been a distinct shortage of new sales instructions. Average stock levels on surveyors' books have dropped to lows not seen for at least three decades.
"If we are to get to grips with this country's housing crisis, we need to look at supply-led measures across Government and the wider industry in order to get the market moving."1 
In a blog on the Council of Mortgage Lenders' website, Sue Anderson writes: "The real debate is about how to address the current lack of (perceived) choice for older homeowners who would like to move, but feel they can't.
"No one, as far as we know, is suggesting that older homeowners should be forced or guilt-tripped into doing anything they don't want to do."
Read more of the blog here: http://www.cml.org.uk/news/older-home-owners-public-outrage-or-broad-consensus/
Earlier in the year, Legal & General also published a report on the issue, which can be found here: http://www.legalandgeneral.com/mortgageclub/da/latest-news/digest/2015/june/040615-last-time-buyers.html
1 http://www.propertyindustryeye.com/rics-elderly-should-be-given-help-to-downsize/