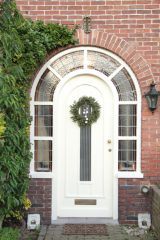 People have different ideas about when the best time of year to sell a property is, but vendors often don't have much of a choice and must make the most of the market when the time arrives.
Selling a home in winter is a brilliant opportunity to show off how cosy and comfortable the property is. Buyers will also be looking round wondering how good the house will be for hosting Christmas – so make sure your property seems like a family-friendly, warm space for prospective owners.
The following tips should encourage interest from winter buyers, so take note!
Make an entrance
We all know that first impressions can make or break your opinion of a property, so the outside of your house is the best place to start. The exterior is the first thing your viewers will see, so it is vital that you put some effort into making your home look inviting.
Start by fixing any broken fence panels or sprucing up areas of flaking paint. Tidy up the front garden and remove the plants that have seen better days. If the windows and front door are looking a bit grubby, ensure they have a good wipe down, or consider a fresh lick of paint. Check out the trendiest colours for this year here: /dress-up-your-front-door-for-the-festive-season/
Heat things up
There's nothing nicer than stepping into a warm house from the cold outdoors. Make your viewers feel immediately welcome by heating up your property before they arrive. If a viewing is booked for the evening or in the morning, set the thermostat to come on in plenty of time.
It may be nice to offer your prospective buyers a hot drink and mince pie to warm them through. If you have candles around or an open fire, light them to add to the atmosphere.
Set the mood
With darker evenings and mornings, bathing your house in light will brighten up any damp and dreary day. Not only do well-lit rooms help viewers see the full potential of the home, but it also sets the mood of the property. If you have a viewing in the day, keep curtains open and wash the windows, to maximise incoming light. If you'll be showing off your home in the evening, use side lamps alongside your main lighting to add warmth to the room. It is also a good idea to invest in an outside light, so that your house appears bright from the street.
Take some new snaps
If your property has been on the market for a long time, it is likely that your photographs will be out of date, therefore indicating to prospective buyers that you're having a hard time selling. If your pictures show trees full of summer leaves or flowers in bloom in the garden, it suggests that your property has not had much interest since the summer. Viewers could therefore put in a lower offer than they would have otherwise.
Choose a bright, fresh day to take new photographs and make sure interior images look cosy and inviting with no clutter or rubbish.
Get in the Christmas spirit
Although many prospective buyers are reluctant to make large financial commitments around Christmas, you can use the festive period to your advantage. Add some Christmassy touches to your property to incite excitement in your viewers. An elegant wreath on the door, subtle decorations inside and scented candles are all easy ways to put your viewers in a good mood and keep them interested. But beware of going over the top – prospective buyers always want to imagine themselves and their belongings in the house, so keep your own tastes to a minimum.
Are you trying to sell your property this winter? Put some of these tips into action and attract the Christmas buyers!