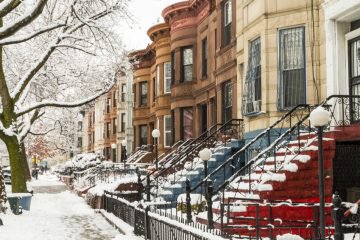 It appears that the London property market is too expensive even for the millionaires looking to live in the capital, according to new research.
A new report from London agent Beauchamp Estates and New York estate agent Leslie J Garfield found that UK millionaires are now searching for homes in New York, as London is too pricey.
The firms saw a 7% increase in London-based high net worth individuals looking to buy prime residential property in New York.
Additionally, there has been a rise of 10% in London-based buyers searching for luxury homes in Miami and Los Angeles.
In a recent wealth report, the agents found that prime property is twice as expensive in London than New York on a cost per square foot basis.
For example, a large property in Knightsbridge costs around £2,195 per square foot, compared to £1,196 per square foot in the Upper East Side of Manhattan.
However, homes in Manhattan are typically larger than in London, so the overall prices are higher.
UK buyers looking for a home in Manhattan generally wish to spend up to £3.95m on a luxury apartment, while New York buyers searching in London spend around £4.1m.
There are currently over 120,000 British expats living in New York and more than 197,000 American expats living in the UK, mostly in London and the Home Counties.
Both London and New York offer luxurious lifestyles, with 76 Michelin-starred restaurants in Manhattan and 65 in London. London has more museums – 173 compared to 131 in New York – and more art galleries – 857 to 721. However, London is double the size of New York City, at 305 square miles.
Prime property buyers are also hit by 12% Stamp Duty in London. In New York, vendors pay a real estate transfer tax, which is calculated at almost $2 for every $500 of the purchase price. However, buyers do pay a mansion tax of 2% of the price when the home costs more than $1m.