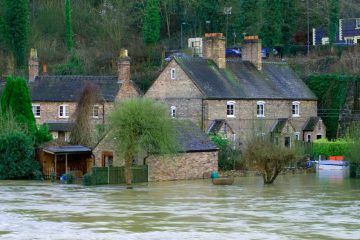 After the recent extreme weather in northern England, many property owners will be worried about their insurance – how high will my premium be? Will I even get a policy?
But don't fear. This guide should help you understand how you can sufficiently insure your property.
The risk
About 5m homes, or a sixth of all properties in England, are considered to be at a higher than normal risk of flooding. However, only around half are at risk from rivers or the sea. Rising groundwater, sewer problems and flash flooding could hit the rest.
The Association of British Insurers (ABI) found that just 55% of those living in flood risk areas are aware that their properties are at risk.
Check your property's risk of flooding at Checkmyfloodrisk.co.uk
Insurance costs
When looking into a home insurance policy, one of the first questions you will be asked is, "Has your home ever flooded?" If you answer yes, you will be asked a lot more questions, your premium will be significantly higher or you may be refused.
Under the terms of an agreement with the Government, insurers should continue covering their existing customers. However, they are free to raise premiums or set extremely high excesses for flooding claims, meaning that many homes remain uninsured. If property owners wish to move to a new insurer, they could be declined altogether.
If you are moving to a high-risk area, it is likely that you will not be offered affordable flooding cover. However, from next year, a new scheme could help you (see next section).
It is definitely worth using a specialist insurance broker or comparing policies yourself – some insurers will calculate the risk better than others. If you have not had any previous flooding incidents, cover should be included in a standard domestic policy.
Most buildings policies will pay to return the property to a habitable condition and for alternative accommodation while work is being completed, which can last nine months or longer.
Contents policies will often replace old items for new up to the maximum payout limit, but not all cover this, so check before you buy.
Flood Re
From April 2016, a new scheme will help alleviate the costs of sky-high insurance. Flood Re will help individual insurers share the flood risk element of a buildings and contents policy; the scheme will pay out future claims for flooding. The initiative is aimed at helping the estimated 350,000 households at significant flood risk who struggle to access affordable insurance.
Under the scheme, there are maximum charges in place that the insurer will ask the consumer to pay for the flood risk component of the policy. This is set by Council tax bands, starting at £210 per year for homes in bands A and B and up to £1,200 a year for band H. This applies to both buildings and contents cover. Consumers buying just one of these will pay less, but this is just for the flood element – the total premium will be higher.
A homeowner in band D will pay £168 to Flood Re for buildings cover, or £108 for contents-only. This may sound like a lot, but will be a huge saving for those in high-risk areas.
Consumers will not have to work out the deal themselves – their insurer will offer them a single premium and the premium will be paid to the scheme. Claims will be handled similarly as they are now, by the insurer.
It is unknown how the scheme will be able to deal with a catastrophic event, but it will help at-risk households access the cover they need at a better price.
Companies and retailers in recently affected areas are not happy that Flood Re does not include business cover.
Buying a property
If you are buying an existing home, the vendor must tell you about any significant flooding incidents when they complete the Law Society's property information form for conveyancing. Any issues will become clear when you apply for a mortgage, as banks won't lend money on a home likely to be destroyed by a major flooding event.
The ABI reports that around 20,000 homes are built in flood risk areas every year, including 4,000 in significant risk spots. This is part of the reason the Government has been developing the Flood Re scheme, to ensure there is cover in future.
When the worst happens
Some people that have been hit by serious flooding have compared the experience to a death in the family. They also warn of the difficulty in finding rental accommodation in the days afterwards. If the worst happens to you, the first thing you should do is get on the phone to letting agents – the best rental homes soon go.
After the summer floods of 2007, 2,400 people in Humberside spent months living in caravans, as there was nowhere else to go. However, a caravan could be a good idea. Some residents of Carlisle lived in caravans parked on their drives. This meant that they were around to help the builders when their homes were being rebuilt.
Also be aware that you may not have to throw out as much as you think – furniture may not have been contaminated and can be restored.
The outcome of your insurance claim also seems to depend on the quality of the loss adjustor appointed. In some cases, victims have had to find their own in order to receive fair treatment.
And remember, it is possible to flood-proof your home – install solid flooring and electrical wiring halfway up the wall, which will make a huge difference to rebuilding your property if it is hit.