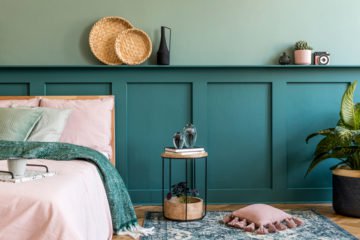 Kate Faulkner, founder of Propertychecklists.co.uk, has provided tips for renters looking to make a rental property feel like home.
The golden rule for renters is to remember to leave their rental property the way they found it, unless the landlord has approved changes in writing. However, Kate Faulkner has given these suggestions for how tenants looking to furnish their rental homes can still make the space their own:
1. Speak openly about ideas with your landlord
If you have ideas on how to improve your home, let your landlord know and make sure you have approval in writing. Start conversations early when you're looking at properties and ask how comfortable they are with you making changes.
2. Decorate with your own furniture
When you're choosing where to live, consider renting an unfurnished property –this will give you a lot more freedom to decorate. If an unfurnished property isn't a possibility, speak with the landlord about what furniture you'd like removed before you sign your tenancy agreement.
3. Go big on soft furnishings
Freshen up your space with colourful curtains, area rugs, throw pillows or frames. This is a great way to bring some personal flair to your home – and to add character to once boring spaces like bathrooms or kitchens. Remember that tenants are solely responsible for furniture, upholstery, electrical appliances and combustible materials that they own and have brought into the property, so ensure that your additions meet fire safety standards.
4. Consider keeping your utility bill costs down
It can be difficult when living in rented accommodation to reduce the carbon footprint of your home, but there are lots of small steps you can take to live more sustainably that don't require your landlord's permission. Consider replacing your bulbs with LEDs, purchasing an eco-kettle and requesting a smart meter from your energy supplier. Smart meters can be requested by the energy bill payer, are installed at no extra cost and help you see how much energy you're using in near-real time. Remember to let your landlord know that you are going to have one installed in writing and keep a copy.
5. Bring the outdoors in
If you don't have a garden, or you're missing the great outdoors, consider investing in some house plants to bring the outdoors in (just be careful when watering that you don't mark any flooring). Houseplants have been proven to have numerous benefits, including better productivity and air quality. If you have a garden or outdoor space, things like tidying it up and of course adding your own furniture can make it feel more like home – all of which can be easily removed prior to leaving.