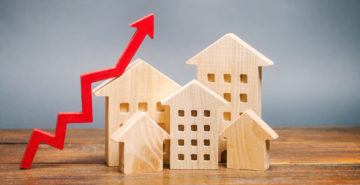 Today's house price index from the Office for National Statistics (ONS) shows the average UK house price was £283,000 in May 2022. This is £32,000 higher than that time last year.
Highlights from the report also include:
UK average house prices increased by 12.8% over the year to May 2022, up from 11.9% in April 2022
Average house prices increased over the year in England to £302,000 (13.1%), in Wales to £212,000 (14.4%), in Scotland to £188,000 (11.2%) and in Northern Ireland to £165,000 (10.4%)
London continues to be the region with the lowest annual growth at 8.2%
Industry comments on the UK House Price Index: May 2022
Richard Eagling, personal finance expert at NerdWallet, says: "A cooling off period for the property market still seems to be in the offing, and it is always important to note that the ONS house price index tracks a couple of months behind others, so it was unlikely that today's data would show any slowdown in price growth just yet.
"Many prospective homebuyers will be watching prices with great interest, deciding when the right time is to act. As with any financial commitment, it is imperative that individuals first evaluate all facets of their financial situation, including their personal savings, credit ratings, outstanding debts, and income. Once this is completed, they can adjust their budget and factor in higher costs – and potentially reassess their home search.
"Additionally, would-be homebuyers must carefully evaluate any mortgage offers, and research the best deals available in terms of rates and loan-to-value options. Making use of online tools such as comparison sites can be helpful here, as it can speed up the process.
"It remains to be seen whether the dual challenge of rising interest rates and inflation will cause house prices to stabilise or deflate a little after a two-year period of remarkable growth. But byers who do their research and preparation now will put themselves in the best position to act when the time is right for them."
Paresh Raja, CEO of Market Financial Solutions, says: "Political and economic uncertainty invariably fuels speculation that the property market will suffer, but we should be wary of predicting any radical shifts. Rising inflation and interest rates, coupled with political jousting within the Conservative Party, are clearly all factors that will affect the actions of many buyers and sellers across the market. But other factors are at play.
"The perennial undersupply of property plays a critical role in keeping prices high, and this is an issue that will take many, many years to tackle. Moreover, we have seen throughout the pandemic that despite a great deal of uncertainty, house prices have risen. This is because many homebuyers and investors often seek out the security of bricks and mortar as an asset to own – a reflection of the long-term trend of property prices rising and rising.
"That is why we should not be too quick to predict a fall, but instead stay alert to the challenges at hand and focus on make informed, diligent decisions before any property investment."
Andy Sommerville, Director at Search Acumen, says: "The latest ONS data demonstrates that, despite cost of living pressures acting as a brake on price growth, house prices remain extremely high by historic standards.
"As each month passes, interest rates, inflation, and other cost of living pressures, are intensifying and it is likely that there will be further strain placed on household finances in the upcoming quarters, particularly as inflation is forecast to reach double digits and energy bills are set to rise again in the autumn.
"Nevertheless, while economic turbulence will inevitably and increasingly act to stymie house price growth, prices will continue to stick at peak levels for some time because of an unprecedented set of market dynamics. Post pandemic lifestyle preferences are proving incredibly powerful in driving demand. This, combined with persistent low supply, continues to offset the impact of cost of living on pricing.
"At the same time, while cost of living is having an impact for many first time and lower income buyers, mortgage rates are still low by historic standards, which is allowing many buyers to continue pursuing purchases despite strong pricing and rising household bills.
"While that dynamic is stubbornly holding firm at the moment, interest rates may increase significantly as the Bank of England attempts to combat the fastest pace of inflation for forty years. As rates go up, this could impact pricing and exclude some buyers from the market. More immediately though, this reinforces the urgent need for rapid progress in digitising our property sector to drive efficiencies.
"Many buyers are going to be pushing hard to complete purchases as quickly as possible before rates rise further. We need to ensure the sector can cope with high levels of market activity as well as an increased urgency from buyers and sellers to get sales over the line in record time before the cost of their mortgage goes up further."