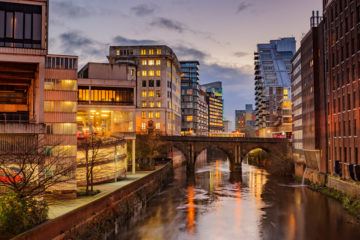 Property investment company Fabrik Invest has reported a surge in demand for buy-to-let property in Manchester over the past three months.
During that time, 70% of the company's sales were made in the city.
Dale Anderson, Managing Director of Fabrik Invest, comments: "We've sold around £8 million worth of property in Manchester in the past quarter and demand continues to be strong. Manchester is ticking all of investors' boxes right now, whether they're domestic investors or those putting their money into UK property from overseas."
According to Zoopla's June 2021 UK House Price Index, Manchester has enjoyed the third highest price rises in the UK over the past year, with an average increase in value of 7.4%. Savills, meanwhile, is forecasting a 28.8% rise in property prices across the North West over the five years to 2025.
Manchester also stood out as a city with property investment potential in Aldermore's 2020 Buy-to-Let City Tracker. It ranked the city as the best location in the UK for landlords to invest in, with rankings based on factors such as average rent prices and local void period levels.
According to data from the Office for National Statistics (ONS), labour productivity in the North West grew by 4.6% in 2020 (compared to 2019). This is the fastest rate of growth in the UK and well above the national average of 0.4%. Manchester is also the UK's third best performing city when it comes to attracting foreign direct investment (FDI).
Matt Harper-Penman, Group Director of Fabrik Invest, comments: "Manchester is a leading light when it comes to property investment right now. With so much going for it, including strong demand for rental homes and a relatively low entry point – the average property there costs £188,900, compared with £488,600 in London – the city has enduring appeal for investors."