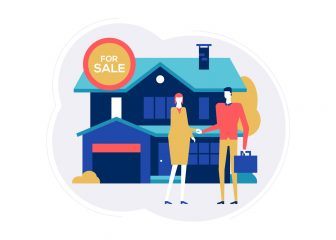 HM Revenue & Customs has released its latest UK Property Transactions Statistics, revealing a 6.8% annual increase in residential transactions.
The report also includes the following latest headlines:
The estimate for UK property transactions in December 2019 was 104,670 residential and 10,690 non-residential.
The December 2019 estimate for residential transactions is 6.2% higher than November 2019.
The estimate of non-residential transactions in December 2019 is 0.8% higher than in December 2018. It is also 13.4% higher than November 2019.
Andrew Southern, chairman of property developer Southern Grove, comments: "The entire industry will be hoping this jump will be a sign of things to come. It was a blistering finishing to the year and bodes well for 2020 as the full effect of a mercifully decisive general election won't have fully filtered through yet.
"The market, across all areas including housebuilding, land, commercial and consumer sales, has laboured under a relative trickle in terms of sales volumes for so long, that there are now many professionals in the sector who have never known anything else.
"We obviously have the financial crisis to thank for that but a recovery in transaction volumes, of which this could well be the start, will be a crucial piece of the puzzle if Britain is to prove economic commentators correct and outperform its European neighbours for the foreseeable future outside the EU."
Joseph Daniels, founder of modular developer Project Etopia, says: "Brexit has ceased to be the ball and chain dragging the property market down to the depths, and with clarity now drawn on that issue, sales volumes have climbed by 6.8% compared to last year.
"The prospect of an election prompted buyers to re-engage with the property market as the country's political future became clear for the first time in a long time, and may have sparked many buyers to seal the deal on their purchases.
"The upcoming Budget could prove to be a big determiner on whether transactions creep towards levels seen before the financial crisis during 2020. Rumoured Stamp Duty changes would be welcomed, as it has been a major contributor to the slowdown in sales in recent years.
"Meanwhile projects to get Britain building on a large scale are crucial to ease the affordability problems which have plagued the market, as tight supply has pushed prices up."
Shaun Church, Director at Private Finance, comments: "The end of 2019 saw a surge in property transactions, and this increase in activity looks set to continue into early 2020. The decisive outcome of the General Election has generated a surge in interest from buyers and sellers, who now with greater clarity and certainty on the UK's political future, are ready to make their move.
"House prices are still factoring in a discount following three years of political turmoil, while mortgage rates are close to record lows and set to fall even lower if rumours of a Bank of England rate cut prove to be true. From an affordability perspective, now is, therefore, a great time to buy and progress up the ladder. These conditions won't stick around forever though, so those looking to make their move should do so soon."