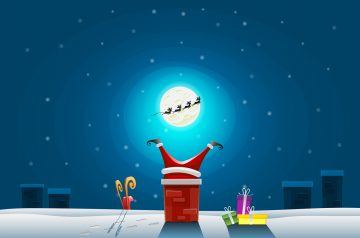 There's been a lot of talk this year that the private rental sector (PRS) is becoming less profitable. For those landlords looking for a change of career, perhaps leaning into something a bit more charitable, a new study has calculated the logistics required to become the next Santa Claus.
Online Money Advisor has conducted a study into how Santa Claus manages to store and deliver all of those presents in one night:
Forget snow-covered grottos in Lapland, you're going to need warehouses and a lot of them. They calculated that to store all of the presents, you'd need warehouse space totalling 26,355,362.4m², or the equivalent of 530 Heathrow Airports!
'How might they have worked that out?' we hear you ask! They took the 548,695,405 children on the nice list (that's minus the 20% on the naughty list) and multiplied it by the average Christmas present pile size of 0.48m².
Next, there's the cost. That many gifts would be worth a combined total of £54bn, or £100 per child. To put that into perspective, that's the same as the GDP of Luxembourg.
Finally, there's the time associated with delivering all of the presents. You certainly won't be getting an easier life as the next Santa Claus. You'd need to visit 182,898,468 houses in one night or 1,583 per second!
Hard work! But as a reward, you can look forward to consuming 52bn calories and 182m units of alcohol in one night in mince pies and sherry…
So, if you have a penchant for over-indulging and enjoy working extra hard for one night of the year, 2020 might be the year of your new career! Plus, it would be an advantage if you had some magical powers too!
Merry Christmas from Landlord News! See you in 2020.