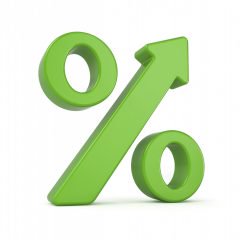 The record-breaking central London office rents show no sign of slowing down. As such, one of the UK's largest landlords has posted a substantial rise in the value of its properties, alongside a huge rise in net asset share.
Rising returns
British Land posted a 12.1% increase in the total value of its portfolio, with a 20.5% increase in net asset per share. This took the overall value of the company's portfolio to a £13.6bn, with much of the growth attributed to offices during the past year.
The organisation completed and opened its signature Cheesegrater tower in the summer of last year and how now successfully rented out 84% of the structure's 47 floors. One group, Affinity Shipping, is paying British Land £90 per square foot of space, thought to be a record-breaking amount.
This record amount is a signal that space in the capital is an increasing premium. According to a recent survey from Knight Frank, the cost of an office space within a London skyscraper grew by 7.7% over the last year, meaning that it became the fourth most-expensive city in the world for high-rise rents.[1]
More to come
Chief executive of British Land, Chris Grigg, said that the Cheesegrater tower was just one of a number of proposed developments in the capital. Grigg said that, 'we have got other irons in the fire. We are happy to continue to develop, but we don't happen to have a tower project at the moment, particularly given the price of land.'[2]
Grigg feels that the outcome of the election, nor the impending EU referdum, has not put the brakes on demand for central London office space, stating, 'do I think it's having an impact on the market at the moment? No, but could that change? Of course.'[3]
British Land recently paid £135m to secure the remaining land on a 46-acre regeneration plot at the site formerly owned by Canada Water. The firm hopes to construct a town centre on the site, complete with shops, offices and homes. Additionally, British Land juggled its existing portfolio, selling off more than £900m worth of assets. This included a property swap deal with Tesco that enabled the company to refocus its supermarket holdings in the South of England.
It was not all good news. The company lost out to Land Securities in their attempt to secure a stake in Bluewater shopping centre last summer. Grigg however was bullish in his response to losing out on the investment, as he felt the £656m paid was too much. Grigg said, 'we were happy to miss it at that price to be clear. That's the nature of our business, we need to have capital discipline.'[4]
With underlying pre-tax profits rising 5.4% to £313m over the last year, it seems that British Land can afford to lose out on the occasional deal.
[1-4] http://www.telegraph.co.uk/finance/newsbysector/constructionandproperty/11605781/Office-space-race-in-London-sends-British-Land-to-greater-heights.html