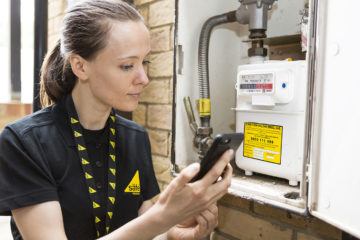 This week is the 10th anniversary of Gas Safety Week. During September every year, the Gas Safe Register works to raise awareness of gas safety in homes.
Just Landlords, the specialist landlord insurance provider, has updated its guide for landlords and tenants in order to help spread awareness across the UK.
Boiler supplier Ideal Heating has also provided the following five tips to help avoid unwanted breakdowns:
1. Get annual checks by a Gas Safe registered engineer 
Your gas appliances need a safety check every year – failing to correctly maintain your appliance could lead to serious problems including carbon monoxide poisoning
When having your service done, only use Gas Safe Registered engineers. This includes when installing any appliances too. Make sure you insist on seeing their Gas Safe ID card
This responsibility falls to landlords for appliances that are provided by you. Keep track of your Gas Safety Records and ensure gas appliances, fittings and chimneys are safe (in line with the Gas Safety Regulations 1998). If tenants have their own gas appliances in the rented property it is their responsibility to ensure that they are regularly maintained and serviced
Always ensure that your Gas Safe engineer has a copy of the manufacturer's instructions and services your appliance in accordance with these. Your appliance manufacturer will be able to help if you don't have a copy
2. Never block the ventilation around your appliance
A lack of ventilation around appliances, whether indoors or outdoors can lead to a build-up on carbon monoxide
Ensure any gas appliances have good ventilation and are used in the intended way
3. Get a carbon monoxide detector and test it regularly
Make sure you have a working carbon monoxide and smoke detectors in your property/ies. Early warnings can save lives!
It's also important to be aware of the signs of carbon monoxide poisoning. Encourage your tenants to know the symptoms which include, headaches, dizziness, nausea, tiredness, and breathlessness. (Think about whether symptoms improve when you leave the house – are others in the home suffering similar symptoms?)
4. Test your CO alarm regularly and check that it is still within the expiry date printed on the alarm
Encourage your tenants to check appliances for warning signs! If appliances have a pilot light, do you have to relight it? If so you should get your appliance checked
If you see yellow, lazy flames on your gas hob, rather than the usual blue ones, your hob needs to be checked immediately
Any staining or excessive soot build up on or around appliances might also signal problems
Is your appliance performing differently to normal or displaying fault lights or codes? Time for a Gas Safe registered engineer to check it
Check when you last had your gas appliance serviced and ensure you regularly have it maintained
All other fuel-burning appliances (e.g log burning stoves) should also be checked and maintained by qualified engineers
You can find further advice on the Gas Safe Register website: www.gassaferegister.co.uk/help-and-advice.
Chris Jessop, Customer Services Director Ideal Heating, comments: "Many people do not take gas safety seriously enough. Neglecting to follow guidance on checks and maintenance can be life-threatening and so initiatives like Gas Safety Week are massively important in helping protect people, homes, and workplaces.
"At Ideal Heating, we place huge importance into making sure staff are fully trained and up to date on the latest best practise. The safety of our customers is paramount and we work closely with Gas Safe Register in support of their initiatives throughout our normal working practices every day."
Problems with gas in a home can cause serious health issues concern which might even be a threat to life. Getting your appliances checked regularly can help to prevent this.
You can enter your postcode here to see reported gas threats in your area: www.staygassafe.co.uk/.