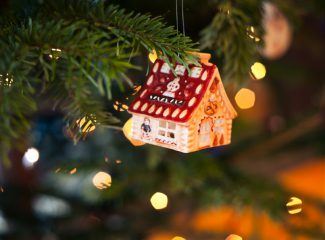 If you have a large portfolio of properties, or even just a couple to manage, being a landlord can often mean you forget about your own home in making sure your tenants live comfortably and happily. But at Christmas, it is important to focus on your own property and create a festive feel at your home.
With under two weeks to go, you may not be able to transform your house into a winter wonderland, but we've listed the top five essential Christmas decorations that are easy and effective.
First impressions
Friends and family often pile into our homes over the festive period, so provide plenty of impact with a traditional wreath on your front door. These can be classic – made from ivy and berries – or more rustic, with pinecones and spiced fruit. For a magical effect, choose a bright, modern wreath in silver or gold. Finish with a velvet ribbon for a luxurious look.
Welcome your guests 
When your guests step into your house, surprise them with a full, festive garland. You can buy readymade garlands to attach to your banister rail, or make one yourself with conifer and berries to fill your home with a wintery scent. Start off a theme for your home by combining certain elements of your wreath, for example, sparkling pinecones.
Special decorations
Add some new, fun baubles to your tree this year to give it an overhaul and bring everything together. Pick decorations that reflect what you do –an old-fashioned gold key would be perfect for your Christmas tree! These baubles can be used every year, again and again.
Christmas smells
One of the best things about Christmas is the variety of aromas that fill the air. Whether you love the smell of gingerbread cooking or clove-studded oranges, find a candle scent that will drift through your home and bring joy to your guests. Place candles on the mantelpiece or windowsills for a delicate effect.
Where will the presents go?
Stockings can often become tired, so invest in some new, fun ones for all the family. Hang them on the fireplace before the big day for some added decoration. There are plenty on the market, from rustic hessian sacks to traditional Nordic knits.
What theme have you gone for this year?