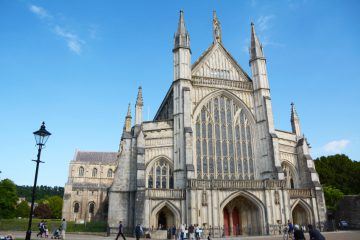 A recent study by the Sunday Times has named Winchester as the best place to live in the UK.
The Hampshire city was praised for its "food, festivals and feel-good factor" and was described as "a tasty slide of authentic history"1.
For the last three years, Visit Winchester has been promoting the area as the perfect English city, thanks to its good schools, low crime rate and a range of tourist attractions.
The city's population of 45,000 people may also find Winchester a desirable place to live as it is only an hour from London by train and has an unemployment rate of just 0.6%.
However, if you're on a budget, moving to Winchester may not be the best idea, as some people are completely priced out of renting or buying there.
Zoopla reports that the average house price in the city is £520,314, while the rent on a typical one-bedroom home is £821 per month.
Over the past year, house prices in Winchester have increased by 10% and by a huge 30% in the last five years. Zoopla names Sleepers Hill as the city's most expensive street, where the average home costs a whopping £1,530,938.
Sue McKenna, the General Manager of homelessness charity Trinity Winchester, says that rising house prices have caused problems for anyone on a low income looking to rent or buy in the city.
She believes that the city being named the best in Britain will not help her clients: "The people we work with are completely priced out of the market, even renting a private house is out of reach.
"For our clients, this is not going to help, it is going to make it much more difficult for them."1
She insists that Winchester needs more social housing, as house prices and rents continue to soar.
The city dates back to 150BC and was chosen as England's capital by King Alfred the Great. It is also suggested that it could have been the real site of King Arthur's legendary Camelot.
Winchester is also home to the UK's largest farmers' market, one of Europe's biggest cathedrals, the restored Edwardian Theatre Royal Winchester, and a stream of upmarket shops and restaurants.
The Mayor of Winchester, Angela Clear, says the city's history and lively modern atmosphere make it special.
"It has so much tradition and that is what people love," she claims. "We have the lovely cathedral and fantastic restaurants."
She adds: "All the year round, there is something going on for people to take an interest in, with markets and festivals and all sorts of lovely things. And of course the people are so nice and friendly."1
However, the city hasn't always been regarded quite so highly – it made a surprise appearance in the first Crap Towns book in 2003, placing fifth behind Hythe and ahead of Liverpool.
1 http://www.bbc.co.uk/news/uk-england-35861938