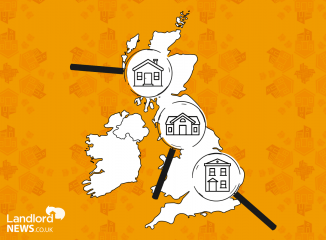 Unsurprisingly, new data from Agency Express reveals a significant slowdown across the UK property market.
Its Property Activity Index shows that a usually robust March saw national month on month new 'For Sale' listings fall to -16.1%. Figures for properties 'Sold' also fell to -15.8%.
The index's archives also highlight that this month's activity is the slowest on record for March. Notably, this data has been heavily affected by suspension of services.
The downward trend continued across the UK, with all regions recorded by the Property Activity Index reporting declines both properties 'For Sale' and 'Sold'.
A resilient Yorkshire and Humberside reported the smallest decline with figures for properties 'Sold' at -9%.
Of the remaining 12 regions the smallest declines in this month's index were reported by:
New listings 'For Sale'
East Anglia -10.6%
North West -12.9%
Central England -16.2%
Properties 'Sold'
Central England -10.4%
South West -10.0%
East Anglia -12.8%
North East -16.6%
Wales has seen the largest decline, according to the Property Activity Index. Figures for new listings 'For Sale' fell to -17.6% and properties 'Sold' at -26.2%.
The next biggest decline was recorded to be in the North East. New listings were at -21.3% and properties 'Sold' at -16.6%.
However, both regions currently remain buoyant over a three-month rolling period and both have seen an increase in year on year activity.
Stephen Watson, Managing Director of Agency Express, comments: "March's data from the Agency Express Property Activity Index, has as expected returned significant declines. This is partly due to the natural slowdown that occurred as the COVID-19 virus gained momentum.
"However, towards the latter end of the month, our figures are heavily affected by our suspension of services. So, on this basis is it hard for us to give a true reflection of this month's activity.
"Moving forwards, as anticipated, we don't expect to see any immediate changes or growth and our figures will be heavily impacted by the suspension of services for the forthcoming months."