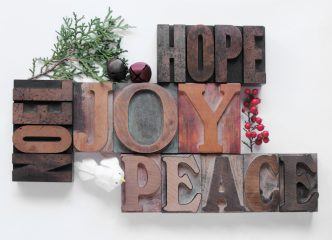 The shopping's finished, the wrapping's done, the decorations are in place… But you're still not in the festive spirit? Whatever the true meaning of Christmas is for you, it can often be lost. These wise words should spark the joy of the season inside you, just in time.
His phrase "Bah, humbug!" may be one of the most famous (and used) Christmas quotes, but it's the story of Ebenezer Scrooge's transformation into a warm-hearted soul that really captures the meaning of the festive period.
Ever one to remind us to laugh, the late Joan Rivers tickles us with this festive joke: "The one thing women don't want to find in their stockings on Christmas morning is their husband."*
*For more Christmas gags, check out our list: /provide-the-entertainment/
From one of the most loved Christmas poems, "Twas the night before Christmas, when all through the house/Not a creature was stirring, not even a mouse", is bound to get children and adults alike ready for the big day.
Are you a festive trickster? Follow comedian Bernard Manning's advice: "I once bought my kids a set of batteries for Christmas with a note on it saying, 'Toys not included'."
Washington Irving's story The Legend of Sleepy Hollow may have been written back in the early 19th century, but its morals still ring true: "Christmas is the season for kindling the fire of hospitality in the hall, the genial flame of charity in the heart."
His classic hit I'm dreaming of a white Christmas may be a favourite, but Bing Crosby has some even wiser words not included in the song: "Unless we make Christmas an occasion to share our blessings, all the snow in Alaska won't make it white."
"Christmas waves a magic wand over this world, and behold, everything is softer and more beautiful," says Norman Vincent Peale, known for his positive thinking.
The Grinch is another well-loved character that had a change of heart over Christmas. This quote is perhaps the most fitting for the 21st century from Dr. Seuss: "Maybe Christmas, he thought, doesn't come from a store. Maybe Christmas, perhaps, means a little bit more!" 
And Roy L. Smith has the same idea; Christmas is in the person, not the gift: "He who has not Christmas in his heart will never find it under a tree."
But comedian Bob Hope's profound take on Christmas is perhaps the one we should take with us the most – "My idea of Christmas, whether old-fashioned or modern, is very simple: loving others. Come to think of it, why do we have to wait for Christmas to do that?"