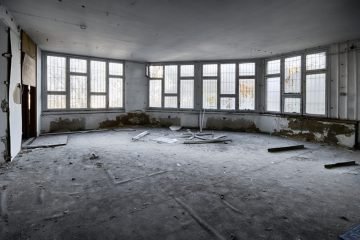 Landlords and homeowners across the Deepings and Bourne districts of Lincolnshire are being offered cash incentives of up to £5,000 to help bring empty properties back into use.
As part of a nationwide effort to help boost the supply of rental homes to cater for growing demand from tenants, South Kesteven District Council (SKDC) is offering the payments, which are part of the Government's £4.8 billion Empty Homes Community Grants Programme, to help landlords and building owners re-let properties that have been classed as long-term unoccupied.
SKDC's Business Manager for Environmental Health, Anne Marie Coulthard, says: "It can be challenging for some owners of homes that have not been maintained over a number of years to bring them back into habitable condition.
"Therefore, the Government's Empty Homes Community Grants Programme is a channel to help improve the condition and value of the property and, in some cases, allows landlords to let the property in order to generate an income."1 
To qualify for funding from the scheme, the property must have been vacant for at least six months and owners must agree to charge rent below the Local Housing Allowance weekly rates of between £58.38-£153.02 for a minimum period of three years. Additionally, the property must be brought back into use within 12 months of work starting.
New research by property crowdfunding platform Property Partner estimates that England has over 203,000 long-term empty homes with a value of over £38 billion.
In London alone, 20,915 homes were empty for more than six months in 2015 – around £12.4 billion worth of empty property, despite a chronic housing shortage in the capital.
The London borough with the highest number of empty properties is Newham, where 1,318 homes were vacant for over six months in 2015. However, the greatest value of empty stock is in Kensington and Chelsea, where £1.7 billion worth of property is unoccupied.
Outside of London, Bradford has the highest number of empty homes, after recording an increase of 7% over the last decade to a total of 4,154 with an estimated value of around £400m.
Meanwhile, Manchester has seen the number of empty homes fall by over 84% in the last ten years, from 10,059 in 2005 to 1,599 in 2015.
West Yorkshire, including Bradford, Calderdale, Kirklees, Leeds and Wakefield, has the greatest number of vacant homes than any other English metropolitan district, at 12,292.
The CEO of Property Partner, Dan Gandesha, comments: "These figures reveal a shocking waste of opportunity. Over a decade ago, the law changed, giving councils the power to seize empty homes through Compulsory Purchase Orders and rent them back out to tenants if they lay vacant for more than two years.
"But we still find not enough being done in many parts of the country. This is nothing short of a scandal. To be fair, some towns and cities are getting to grips with the problem of long-term vacant properties. Yet if just half of the current empty homes could be brought to market, it would go a long way towards resolving the housing crisis, particularly in London."1 
If you are a landlord with a vacant rental property, you should protect your asset with Unoccupied Property Insurance, which covers any damage until the home is rented again.
1 https://www.landlordtoday.co.uk/breaking-news/2016/6/cash-incentives-to-help-bring-empty-buildings-back-into-use