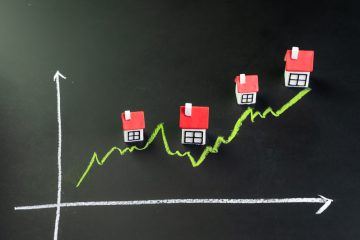 The Government's UK House Price Index shows that average house prices increased 10.9% in the year to February 2022. The average price of a UK property in February was £276,755.
James Forrester, Managing Director of Barrows and Forrester, comments: "To say we've seen a fast start to the year would be somewhat of an understatement where current property market performance is concerned.
"Despite the wider narrative of financial turmoil that is impacting many households, we've seen an unrelenting level of homebuyers continue to enter the market in search of what is likely to be the most expensive purchase they will make in their lifetime.
"As a result, we're seeing homes go under offer at an extremely quick pace, within days of listing them online in many cases, as buyers tussle over what limited stock there is available."
Chris Hodgkinson, Managing Director of HBB Solutions, comments: "An incredibly competitive market is great for those looking to sell, but for homebuyers entering the fray it can be a stressful and expensive endeavour.
"Not only are they already facing a far higher cost when it comes to climbing the ladder, but pickings are slim in terms of the stock available.
"This not only makes it harder to find their ideal home, but when they do, many are being beaten to the punch, outbid during the offers stage and even gazumped when they think they have finally secured a property."
Christina Melling, CEO of Stipendium, comments: "The current property market boom is being widely touted as a key indicator of economic success against an otherwise gloomy pandemic backdrop. But while those lucky enough to already own a home may agree, it's unlikely this sentiment is shared by those struggling to get a foot on the ladder.
"The average first-time buyer is now over £21,000 worse off than just a year ago having seen the value of a first home increase by 10.1%.
"While the cost of borrowing may remain favourable, the initial financial hurdle of a mortgage deposit is simply too much for many to overcome. With the cost of living also climbing, those previously struggling to save will no doubt find the task almost impossible going forward."
Lee Martin, Head of UK for new-build specialists Unlatch, comments: "Demand for new homes has only grown stronger in 2022 and the sector is certainly playing a pivotal role where market performance is concerned. This is evident by the fact that new-build house prices are climbing at more than double the rate of the existing market and so it's fair to say the sector is the engine room driving current rates of house price appreciation.
"But despite this strong performance, it's also fair to say that the sector is helping beleaguered first-time buyers by enabling them to reduce the sizeable financial barrier of a mortgage deposit by utilising the Help to Buy scheme.
"So while the Government has largely failed in its ambitions to build more homes, the nation's housebuilders have taken up the mantle to keep Britain building, delivering housing stock that is sorely needed at all levels of the market."
Geoff Garrett, Director of Henry Dannell, comments: "The market has continued to excel despite what is a very delicate economic landscape and while the cost of borrowing has remained fairly favourable, those currently looking to buy should tread very cautiously with regard to over borrowing.
"It remains to be seen as to whether the cost of a mortgage will climb substantially this year, but with the wider cost of living also putting a squeeze on household finances, those borrowing well beyond their means may fall into financial difficulty further down the line."
Jonathan Samuels, CEO of Octane Capital, comments: "Mortgage rates have already climbed by one percent so far this year and they are only going to go in one direction.
"So while many homebuyers may find that the cost of borrowing remains fairly affordable at present, they can expect this cost to increase over the coming months.
"While this won't stall the market completely, it will certainly dampen market activity and it's only a matter of time before this impacts house prices."
Marc von Grundherr, Director of Benham and Reeves, comments: "While the London market continues to trail the house price pack where annual rates of appreciation are concerned, February's explosive monthly increase provides the first signs of how quickly the tide is starting to turn.
"We've seen a sharp uptick in market activity on the ground for some months, driven by the return of both domestic professionals and foreign buyers, and this is now starting to translate into positive market momentum.
"Although the wider UK market may be susceptible to higher mortgage rates and the increasing cost of living, this is less likely to faze buyers within the capital. So we expect to see a complete role reversal with regard to property value performance as the year goes on."