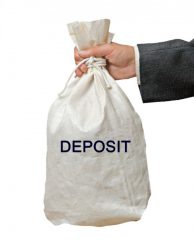 Just a small amount of tenancy deposit money is not claimed, according to the Deposit Protection Service (DPS).
The DPS provides a custodial service that physically banks money.
It revealed that only 0.2% of deposit money has been unclaimed in two years.
Managing Director of the DPS, Julian Foster, says: "In England and Wales, there is no deadline by which tenancy deposits must be claimed.
"As a result, the DPS looks after the funds indefinitely, ready to respond to any claim and repay any monies in a matter of days.
"However, because of the communications and repayment systems that we have in place, the actual value of unclaimed deposits remains very low.
"At the last count, less than 0.2% of the more than £1 billion of deposits we protect had been unclaimed for more than two years.
"We also run publicity campaigns to remind people to participate in the Joint Deposit Repayment process and to get in touch if they think their deposit is still with us.
"The DPS custodial scheme is a free service to both landlord and tenant and is paid for from the interest generated while we protect deposits."1 
1 http://www.propertyindustryeye.com/just-0-2-of-tenants-money-goes-unclaimed-says-dps/