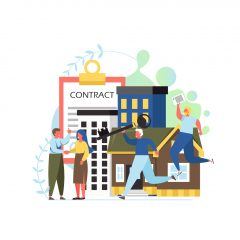 Preparing for disputes in advance can help a landlord or letting agent's chances of avoiding them later on, says The Deposit Protection Service (The DPS).
According to The DPS, anticipating a dispute at the outset of a tenancy means that they are less likely to encounter one once it ends. The DPS provides advice on how to do so in its new video.
These tips on avoiding disagreements on the return of tenancy deposits, as well as the importance of inventories and the use of photos.
Matt Trevett, Managing Director of The DPS, said: "Thorough, mutually-signed documentation that describes the condition of a property and its contents when tenants arrive can dramatically reduce the likelihood of disagreements when they move on.
"Clarity over how much a property has changed during the tenants' occupation means fewer grounds for disagreement or confusion over the costs of cleaning or dealing with damage and any other issues.
"In our experience, around 97% of tenancies end with landlord and tenant agreeing on whether deductions from the deposit are necessary, but our free, impartial Dispute Resolution Service can help ensure that there is a fair settlement when they don't see eye-to-eye."
The DPS has highlighted the key tips provided in the video to help landlords and letting agents:
1) Complete a check-in report at the start of a new tenancy, listing the condition of everything in the property, including the carpets, walls, garden and furniture. Keep the report fair and factual

2) Make sure that everybody agrees with the description of the property — and that tenants sign the check-in report. In the event of a dispute adjudicators can have reason to doubt a report's content if the tenant has refused to sign it. Tenants should also sign reports from periodic property inspections

3) Take date-stamped photos to support the check-in report. Include an accompanying note that makes it clear what the photographs show. Retake the same images at the end of the tenancy and stamp the date. These images can then illustrate any specific damage or deterioration of items

4) Complete the report — and get it signed by the tenants — at the time they move in

5) Provide the tenant with a copy of the check-in report
Watch the video here: https://www.depositprotection.com/learning-centre/disputes/preparing-for-disputes-the-check-in/