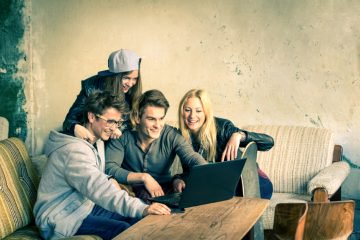 Four in five students expect to own their first home by the time they're 35-years-old, according to a new study.
Many are also positive about future house prices, with 30% hoping to pay under £150,000 for their first home and around a quarter expecting to pay less than £200,000.
The current average property price is £181,619 according to Land Registry and the average asking price on Rightmove is £294,542 at present.
Student property website, Accommodation for Students, uncovered the figures in its annual nationwide student survey.
Separate findings by PricewaterhouseCoopers shows that by 2025, more people will rent than own a home. However, 80% of students expect to be able to buy a house between the ages of 25-35.
This arrives after it was revealed that the number of students in debt doubled last year. 21% of students now have personal debts of £20,000 or more. But future homeownership is important for 78% of respondents. Just 3.6% said buying is not important to them.
Director of Accommodation for Students, Simon Thompson, comments on the findings: "It is great that so many students aspire to owning their own home one day and, perhaps for many, the reason they are at university in the first place.
"However, it is clear that the level of debt that students are now forced to start off life with will be a huge hindrance in achieving these goals.
"The Government says it is making the dream of homeownership a reality, but it is possible this could be at the detriment of some choosing higher education.
"The attractiveness of going to university to come out with debt which will take decades to clear, versus friends who start their life working at 18 debt free, is securing a future for elitism."1 
Accommodation for Students surveyed 1,464 students of all ages.
1 http://www.propertyindustryeye.com/four-in-five-students-aspire-to-own-their-first-home-by-35/