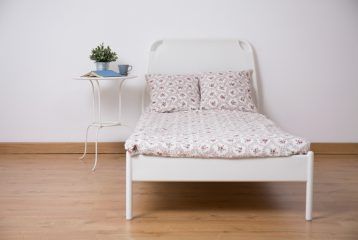 The number of tenants with a spare bedroom has dropped to the lowest level on record, according to the latest Lettings Index from Countrywide.
Just one in three tenants (35%) rented a home with a spare bedroom in 2016, down from a peak of 59% in 2010.
In London, where rent prices are highest in the whole country, only 26% of tenants were able and willing to pay for an extra bedroom this year, down slightly from last year.
As rising rent prices have pushed the cost of an extra bedroom to an average of £295 per month, tenants have increasingly shied way from paying for space that they don't absolutely need.
Tenants in the capital are the least likely to have a spare bedroom, however, the figure is very similar in big cities across the south of England. Less than three in ten tenants in Oxford (28%), Cambridge (27%) and Bristol (24%) have a spare room.
But in cities further north, such as Newcastle, Manchester and Liverpool (where the cost of an extra bedroom is much lower), tenants are almost twice as likely to have a spare bedroom.
Those living in city centre flats are a third more likely to have a spare room than their suburban counterparts, the research found.
Countrywide has also analysed the average rent prices across the country, finding that rents have risen by 1% in the past year – the slowest October increase since 2010.
London and the South East continue to bear the brunt of the slowdown, with rents in the capital up by just 0.2% in the last 12 months, while the South East saw a decline of 3%.
In October, the average London rent stood at £1,302 per month, compared to £1,300 last year.
In Great Britain as a whole, the average rent price for new lets is now £947 a month.
The Midlands, north of England and Scotland all experienced rent increases of more than 2% over the year since October 2015.
Johnny Morris, the Director of Research at Countrywide, comments on the findings: "As affordability pressures have risen, for many tenants, extra space has become a luxury. Sacrificing extra bedrooms and sharing has helped renters to absorb higher prices. But those living in the south are close to a point where there's not much more room to squeeze, meaning rental growth is likely to be capped by tenants'  incomes for some time.
"The second half of 2016 has seen the rental market slowly swing towards the tenant. The pace of rental growth has slowed throughout the year. October was the first time in over two years the cost of renting a home didn't rise faster than the rate of inflation."