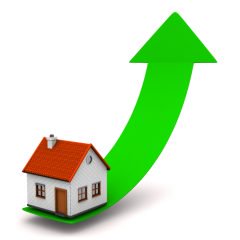 New research from residential property analyst Hometrack indicates that UK house prices have increased significantly over the last 12 months. In particular, prices in the south of England have risen sharply.
Increases
On average, property prices in the UK have risen by £11,500 in the last year, meaning the average house price in a city is £189,400. However, property prices in London average out at £425,700.[1]
Data from the report also shows that month on month prices rose by 0.8%.
Southern soaring
Of all cities, Oxford recorded the largest rise during the last year, with prices rising by £41,700. This was followed by London at £38,900, Cambridge with £23,900, Bristol at £22,400 and Bournemouth at £15,300.[1]
The smallest price rises were recorded in the north of the UK. In Liverpool, prices rose by £4,200, in Newcastle, average increases totalled £4,700 and in Sheffield £5,300. In general, prices in the north are struggling due to less demand from house buyers.[1]
With this said, all cities, with the exception of Aberdeen, recorded on month on month price rises. Bristol had the strongest monthly rise of 1.3%, with Leicester, Liverpool and Belfast close behind with 1.2%.[1]
Improving
'House prices have picked up momentum post-election,' notes Richard Donnell, director of research at Hometrack. 'An increasing proportion of households are feeling the benefits of the improving economy, which means that house price growth is set to continue in the coming months. The greatest risk is an earlier than expected increase in interest rates which would knock market sentiment,' he continued.[1]
Donnell went on to say, 'the strong demand side recovery seen in southern England has yet to spread to other cities revealing the diverse nature of the housing market. All cities are making gains at different rates of growth, but the cities with the biggest increases all have something in common  and that is strong local economies.'[1]
'London has the highest price to earnings ratio, but it covers a wide range of sub-markets. Over the last three years, the impetus for house price growth has shifted from prime markets to the more affordable markets in outer London and the commuter belt,' Mr Donnell added.[1)
[1] http://www.propertywire.com/news/europe/uk-cities-house-prices-2015062610674.html