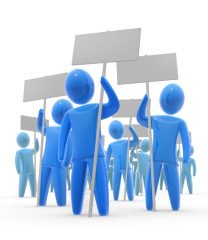 A letting agent has voiced his support of housing charity Shelter's Scottish campaign to improve the private rental sector.
Director of Umega Lettings in Edinburgh, Neil McInnes, says it is a "no-brainer" to back the Make Renting Right campaign.
Shelter's campaign involves calling for rent controls and abolishing the no-fault reason for ending a tenancy. Both measures are due to be introduced in a Housing Bill this autumn.
In a post on Shelter Scotland's website, McInnes writes: "There are many positive changes to legislation being tabled, to list a few:
A new simpler standard tenancy for use across the board instead of the over-complicated outdated tenancy in use at the moment.
A new specialised arbitration panel to deal with tenancy legal issues instead of the tediously slow and poor experience of the wider court system.
Compulsory letting agent regulation to professionalise a wildly inconsistent market.
Simpler interpretations of legal requirements for landlord arounds electrical and fire safety."
He continues: "Much of the reaction to the Shelter Scotland campaign has focused on supposed rent controls and removing the no-fault ground for ending a tenancy.
"However, Shelter Scotland is only proposing that private tenants be protected from unreasonable rent increases.
"Shelter Scotland wants to remove the no-fault ground for ending a tenancy so that landlords can't hold tenants ransom in their own home over not carrying out repairs that are legally required."
McInnes believes: "However, every other reason for a landlord wanting to bring a tenancy to an end (in my experience) is being left in so I fail to see how these changes weaken the landlord's position.
"It would be easy for us to bury our heads in the sand and take up a safe and predictable position around the changes that are coming but that would be irresponsible."
McInnes adds: "This is a golden opportunity to get it right and we'll do all we can to help by supporting the Make Renting Right campaign and working with both tenants and landlords on solutions that are practical and effective for the long term."1 
1 http://www.propertyindustryeye.com/letting-agent-says-its-a-no-brainer-to-support-shelter/