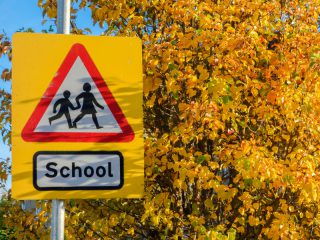 With the summer school holidays now officially at an end for most, it may be wise to wait for the next break before completing a property sale…
Online estate agent eMoov.co.uk has assessed the best time of year to list your property, in order to achieve the highest price across the coming school year.
It looked at price paid data from the Land Registry across all school holidays and term time, to see when it is best to list your property and take advantage of fluctuating price bands during the school year.
With most children heading back to school this week, it can be a manic time for many, so a property sale can often take a backseat. This is evident in that the first autumn term sees the lowest average price paid for property throughout the year (£271,028).
Although a much higher number of properties are sold during the longer term times, the average sold price in term-time is £296,128 – £12,000 less than school holidays prices (£308,150).
The best time of year to complete on a property sale is during the Easter holidays, with the average sold price reaching £398,041. The spring term leading up to Easter is the second highest, at £324,632, with the spring half-term (£323,052), autumn half-term (£303,003) and Christmas school holidays (£300,367) also providing the best windows to achieve a higher price.
So, if you want to sell before 2017 is up, getting your property ready to list now is your best chance to achieve the highest sold price possible – it takes around six weeks to complete and around two months to sell, according to Rightmove.
While it may seem a long way away for those going back to school this week, the autumn half-term and a 12% higher sale price are just seven weeks away. Therefore, if you're waiting to put a property on the market, now is your best opportunity to achieve a higher price – either during the half-term break or the Christmas holidays – without holding out until spring 2018.
The Founder and CEO of eMoov, Russell Quirk, comments: "As we wave goodbye to summer and finally see the kids return to school, many will pause for a breath and a well-deserved cup of tea. However, for those of us with a property sale forthcoming, our attention will soon be drawn to when to sell, with an eye on completing before Christmas.
"Whilst the Christmas break offers an opportunity to get a sale over the line and for a marginally higher sold price, when combined with the additional stress of the festive period, it can be a tough ask. As this research shows, the best window to aim for, albeit a smaller one, is the autumn half-term."
He adds: "Of course, you can never say for sure how long a sale will take, as each is individual, but as a good rule of thumb, getting the preparation of floor plans and photos out of the way now, puts you in a very good position once the market picks up mid-term and continues to do so right up until Christmas."