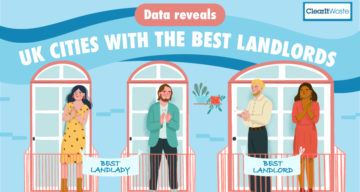 Research from ClearItWaste, the London waste collection service, analysed landlord reviews to create a points-based index revealing which city has the best landlords.
Collating landlord ratings from Yell, Google, and website Marks Out of Tenancy, the company has ranked UK cities.
ClearItwaste says that they looked at 20 of the most populated cities in the UK. All ratings were transformed into a score out of 100 points, which was then averaged per city. The company also used Google Ads to find the average monthly search volumes per city for terms such as 'landlord issue(s)' and 'landlord problem(s)'.
The scores from the four criteria were then added together to calculate an overall score out of 400 points.
The top five best scoring cities were Sheffield (358/400 points), Bristol (295/400 points), Birmingham (295/400 points), London (284/400 points), and Glasgow (232/400 points).
The joint-worst scoring cities were Derby and Kingston upon Hull, each scoring 58/400 points.
Full list of rankings for 20 UK cities
| | | | | | |
| --- | --- | --- | --- | --- | --- |
| City | Marks out of tenancy | Yell Review | Google Review | Search Volume per 10,000 Population | Final Score |
| Sheffield | 84 | 89 | 100 | 84 | 358 |
| Bristol | 84 | 53 | 95 | 63 | 295 |
| Birmingham | 53 | 84 | 63 | 95 | 295 |
| London | 53 | 100 | 32 | 100 | 284 |
| Glasgow | 84 | 0 | 58 | 90 | 232 |
| Leicester | 53 | 79 | 21 | 69 | 221 |
| Leeds | 21 | 63 | 79 | 53 | 216 |
| Edinburgh | 53 | 26 | 63 | 58 | 200 |
| Bradford | 42 | 74 | 37 | 42 | 195 |
| Manchester | 21 | 47 | 47 | 74 | 189 |
| Nottingham | 53 | 16 | 89 | 26 | 184 |
| Stoke-on-Trent | 84 | 5 | 84 | 5 | 179 |
| Coventry | 0 | 68 | 53 | 47 | 168 |
| Liverpool | 53 | 37 | 0 | 79 | 168 |
| Belfast | 21 | 95 | 11 | 32 | 158 |
| Cardiff | 42 | 11 | 37 | 37 | 126 |
| Southampton | 16 | 16 | 63 | 21 | 116 |
| Newcastle upon Tyne | 21 | 58 | 16 | 16 | 110 |
| Derby | 0 | 42 | 5 | 11 | 58 |
| Kingston upon Hull | 0 | 32 | 26 | 0 | 58 |