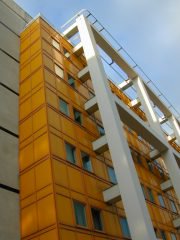 It seems unbelievable that a prospective tenant could walk into a letting agent to enquire about rental properties, to be told that they must register now, but wait between 10-20 years for a home.
Are there cities where most agents have no properties to offer? Places where property groups decide the rent price? Shockingly, this exists within Europe.
Stockholm is believed to be the world capital of rent controls. So it is as bad as it sounds?
One blogger seems to think so, with this post documenting the situation in Sweden: http://marginalrevolution.com/marginalrevolution/2015/07/rent-control.html
Our recent article about tenant group Generation Rent being granted a fund to fight for rent controls now doesn't seem so appealing. Read more here: /generation-rent-is-given-45000-to-fight-for-rent-controls/
Allegedly, waiting time in Stockholm for an inner city apartment is 10-20 years and around 7-8 years in the suburbs.
The official housing queue is managed by the city council, which awards hopeful tenants one point for every day they wait. To receive a home, they need the most points and money for the rent.
When a flat in inner Stockholm recently became available, 2,000 people applied for it. The person who got the apartment had been waiting since 1989.
The blog states: "Rent control creates many more problems than it solves."
And an Australian man, who went to live and work in Sweden last year, has reiterated the issue.
Dr Peter Vella claims: "Sweden is well known for ABBA and IKEA, but it should be more widely known as the land of rent control."
Every year, the Swedish Property Federation and the Swedish Tenants Association join to set the rents. The unnaturally low prices fuel high demand, but weaken financial incentives for developers to build.
Rent controls make it difficult to find a vacant property, as people do not want to leave their current home due to the worry of joining the queue yet again.
Vella explains: "Walking around Stockholm, one notices the complete lack of real estate agencies advertising vacant rental housing.
"Where do Stockholmers go to rent apartments? The answer is Stockholm City Council's housing service. Incredibly, 430,000+ people are registered as waiting."
To try and meet housing demand, it is legal in Sweden for tenants to sub-let, something that Chancellor George Osborne is trying to introduce in the UK.
Also, there is a separate queue for insecure, short-term lets.
Vella concludes: "With rent controls, be careful what you wish for, you might just get it."1 
Vella fears Sydney, Australia will introduce rent controls.
As London could be subject to the same fate, are they such a good idea?
1 http://blogs.crikey.com.au/theurbanist/2015/02/19/swedish-rent-control-experience-a-warning-for-sydney/