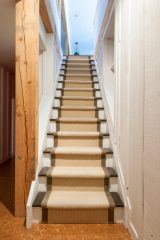 Cramped spaces set at ridiculously high rents are not uncommon in London, but it seems the housing shortage is getting worse and worse.
This Harry Potter style cupboard under the stairs has just a mattress crammed into it, but is up for rent at £115 per week, or £500 a month, with bills charged extra.
The cupboard is off the kitchen in the property in Clapham.
Alex Lomax, 23, went to view the home and subsequently posted photographs on Twitter.
The graduate has been searching for somewhere to live in the capital for a month. She tweeted: "I have literally just been shown a bed under the stairs for £500 a month. F you London!"1
She then linked to an advertisement on the london2let.com website, which does not have a picture, but reads: "One single furnished room available.
"We are looking for a friendly, open-minded and outgoing person to join our house share in a great period house in Clapham.
"We're a good bunch and like to chill out a lot together – not really looking for somebody that just wants to stay in their room. Room comes with a bed. Bills to be shared – approx. £60 per month each."2
1 https://twitter.com/alex_lomax
2 http://www.london2let.com/rooms/to-rent/clapham-SW11/L2L13385-101/