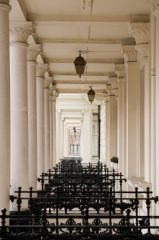 The prime central London rental market has experienced higher demand recently, found a new study.
Kay & Co estate agents discovered that rental inquiries have risen in the past few months, possibly as a result of the slowdown in the sales market due to uncertainty surrounding the general election.
The agency revealed that prime central London rents have returned to annual growth after 2014 witnessed the largest increase since 2010.
The rental sector is becoming more affordable; as rent rises were just 1.4% after the effects of inflation were removed, found Property Wire.1
Last year, the average weekly rent in the prime central London market was £882, a rise of 7%. This is a huge 11.9% higher than the peak in 2008.1
These numbers indicate that the prime market is surpassing the whole of London, as Office for National Statistics (ONS) data found the capital's rental growth was 2.4% in 2014.1
The 2011 Census revealed that 46.2% of households in central London rent privately, compared to 25% in the whole city.1
Pastor Real Estate recently released a report that stated that housing stock in prime central London has grown by 8.6% in the last six years. 5,200 new homes have been built in these parts since 2008 and another 7,000 are in development.1
Head of Sales and Lettings at Pastor Real Estate, Susan Cohen, says that luxury properties are becoming more common: "Not only are the new homes getting bigger in prime central London, but everything that comes with them is getting grander. As wealth continues to pour into the capital, ultra-prime living standards increase."1