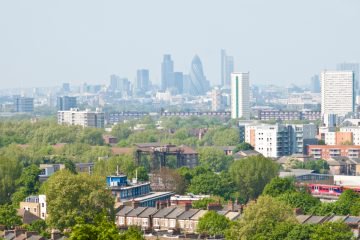 The Outer London boroughs of Barking and Dagenham, Brent, and Sutton have experienced property prices rising almost 20% in the past three months.
Prices in the Essex borough of Barking and Dagenham were up 19% in the last three months, compared with the same period last year. In Sutton, prices increased by 18% and Brent saw prices grow by 17%, according to Nationwide's house price index for June.
House prices dropped by 0.2% in June, taking the annual rate of price growth to a two-year low. The market could be slowing down after a boost following the general election.
The average house price decreased to £195,055 last month, from £195,166.
Year-on-year prices rose by 3.3%, compared to 4.6% growth in May, the research found.
Chief Economist at Nationwide, Robert Gardner, says: "This maintains the gradual downward trend that has been in evidence since mid-2014."
However, buyers will be pleased, as Gardner reports that wage growth is beginning to catch up with the pace of property price rises.
He elaborates: "House price growth continues to outpace earnings, but the gap is closing, helped by a pickup in annual wage growth, which moved up to 2.7% in the three months to April from 1.9% at the start of the year."1
In the capital, property price growth has matched or beaten that around the UK in the last nine months and the annual rate of growth is the second highest in the country.
In a separate report covering the three months to the end of June, Nationwide revealed that the average house in London cost £429,711, a 7.3% rise on the previous year. However, the speed of growth had slowed significantly from the 12.7% recorded in 2014.
1 http://www.independent.co.uk/news/business/news/london-house-prices-property-in-suburbs-barking-brent-and-sutton-up-almost-20-in-three-months-10359915.html