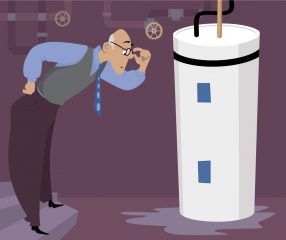 Letting to students can be a different experience than other tenant types. With that in mind, bill-splitting service Glide has shared its tips for the best way to deal with certain tenant demands.
1. Repairs
Despite students having a general bad name for themselves when it comes to looking after their rented homes, this stereotype is vastly overexaggerated. Life as a student can be tough financially, so they will want to do what they can to get their full deposit back when it's time to move on.
As with renting to anyone, general wear and tear is to be expected and is not the fault of the tenants. However, any issue with the structure or exterior of the property is your responsibility. You will also have to sort out any issues with flooring, walls, and sanitaryware, such as toilets, sinks or baths.
Although, it's worth noting that it's down to the tenant to look after any item brought into the property by themselves. For example, it's not the landlord's responsibility to pay for the repairs on items like TVs if provided by the occupant.
Remember to take an inventory before the tenants first move in. This will allow you to clearly see any issues caused by neglect during their time in the property. As well as a written inventory, photos can be a massive help in the event of a dispute. This Landlord News guide will help you get started.
2. Utilities
As a landlord, you are responsible for ensuring that all gas and electric appliances are in good condition, and a gas safety check is required every year. It is also your duty to install smoke alarms on every floor of the building – and carbon monoxide alarms in every room where a fuel-burning appliance is situated. This is for the safety of your tenants.
However, it is not the duty of a landlord to deal with issues such as replacing lightbulbs. It is important to clarify in the tenancy agreement what you expect from your tenants in order to avoid disagreements.
As well as maintenance and repairs for boilers, make a note of any periods that the tenants will be away from the property. If they are all going home over Christmas, there is a risk of the pipes freezing during cold weather, which could lead to central heating issues when they return.
3. General upkeep
Glide points out that a landlord must keep the general state of the property to a level that is deemed to be fit for habitation. This essentially means they must be kept clean, tidy and without any health and safety hazards for when the tenant moves in.
There onwards, it's up to the occupant to look after the cleanliness and tidiness of the homes. This also includes the garden! Be aware that issues like mould, damp and pests could still be the responsibility of a landlord they are deemed to be a result of wear and tear.
Periodic inspections are vital to catch problems as early as possible. As long as you provide 24 hours' written notice stating your intentions, you can legally enter the premises.