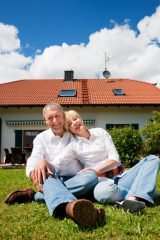 In 1969, the average first home cost just £4,000, and the typical first time buyer was 25-years-old, according to the Office for National Statistics (ONS).
Now, only 8% of 25-year-olds are on the property ladder, says the Council of Mortgage Lenders (CML). The average price of a first home has risen by 5,225% over the last 46 years, to £209,000.
This rate of growth has hugely surpassed the incomes of aspiring buyers, which have increased at less than half the pace. Homelessness charity Shelter estimates that today's first time buyers spend 30-40% more on buying a property than they did in 1969.
Director of the affordable housing campaign PricedOut, Duncan Stott, comments: "If you were able to buy your first home before prices started rocketing, you have received massive unearned wealth gains – but only at the expense of the generation who are now locked out of ownership and stuck paying the highest rents in Europe
"Buying today requires your income to be in the top 20% of earning and a willingness to take out unprecedented levels of mortgage debt."1
These dramatic changes in homeownership have led to the younger generation forced into rental accommodation, but will anyone have it as good as the older generation again?
In 1971, homeownership levels were so high that an equal number of people rented as owned their homes. By 1981, the amount of owner-occupiers had grown to 58%, says the ONS.
At this time, Margaret Thatcher introduced the Right to Buy scheme for council housing tenants, who could now purchase their homes. The legislation was passed in 1980 after a rise in incomes.
Professor Colin Jones, of Heriot-Watt University's School of the Built Environment, states: "Rising incomes meant that more people were demanding homeownership and so some sort of scheme was inevitable.
"There was also none of the supply-side problem we have today, so councils felt perfectly comfortable selling off the stock."1
There was so much stock that properties were mostly selling at less than their rebuilding cost, explains Angus Hanton, co-founder of the Intergenerational Foundation. Buying a house was also more affordable because "mortgage interest relief meant that interest payments on mortgages were tax-advantaged – buyers effectively paid their mortgage out of pre-tax income."1 
Over a third of property wealth in the UK is now owned by households where at least one occupant is aged 65 or over. Almost one in ten (9%) of 55-64-year-olds live in households with net property wealth of £500,000 or more. This is the highest of any age group, found the ONS.
And this trend looks set to continue, as house prices remain high. The average pensioner's property has risen by £900 in value per month this year, a report from Key Retirement indicates.
At present, 28% of those aged 22-30-years-old have had to stay at their family home or move back in.
Figures from the Chartered Institute of Housing (CHS) show that homeownership among 25-34-year-olds has fallen from 67% in 1991 to 26% in 2013. Ownership among those aged 65-74-years-old has grown from 62% to 77% in the same period. In 1981, this was just 49%.
Recent research from the Intermediary Mortgage Lenders Association argued that the older generation hoards large family homes, causing the market to go static for aspiring buyers.
Additionally, the CHS warns that older homeowners are buying and renting homes to those priced out of the housing market.
But not everyone agrees that young buyers are struggling. David Ingram, founder of MyLocalMortgage.co.uk, argues: "With so much governmental support being provided for those wanting to step on the property ladder, it can hardly be claimed that this generation have it any worse."1
Many in the older generation will not identify themselves as asset-rich, as lots of retirees offer financial support to their adult children and elderly parents, says Emma Myers, spokesperson for Saga Legal Services.
She adds: "Aside from the time and emotional costs of this, the financial costs can escalate rapidly."1 
A study from the Equity Release Council (ERC) suggests that the over-55s contributed about £26.7 billion in support to children and grandchildren last year. A house purchase was the most common reason for financial assistance, with retirees offering an average of £14,065.
Research by Prudential found that 41% of over-55s plan to sell their current home, with 2.5m planning to downsize. The average amount of cash that last time buyers hope to free is £87,600. Many will use this money to help their children.
However, many of those approaching retirement age are not selling up to help their children onto the property ladder, but to fund their own retirement. Research by LV= says that 52% of people aged 60 and over plan to sell their home to pay for retirement.
Spokesperson Richard Rowney says this is due to "small pension pots, a lack of retirement savings and the continuous rise in house prices."1
These sales may benefit retirees, but the younger buyers who purchase the homes find themselves in record levels of mortgage debt, argues David Kingman, a researcher at the Intergenerational Foundation.
"Young families [are] effectively subsidising or wholly funding the retirements of the downsizers."1
Meanwhile, young people who do not earn enough to save for a large mortgage are stuck in a downward spiral of debt.
Professor of Geography at the University of Oxford, Danny Dorling, concludes: "Income inequality is the real underlying problem for buyers today.
"People can't save for a deposit so they are forced to rent, but rents are so high they can't ever afford to save. Rich property investors are simply rubbing their hands with glee."1
1 http://www.theguardian.com/money/2015/aug/04/homeownership-the-generation-that-had-it-so-good