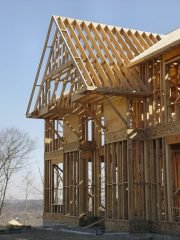 An interesting survey into the latest building and renovation techniques being employed by Britain's builders and tradesmen has shown that modern trends are focused on maximising space and light.
Extending growth
The report from Direct Line Home Insurance, designed to identify the ever- changing face of homes in the UK, gave an insight onto what home improvements are currently proving popular. 47% of builders questioned said that extensions to a property were the most requested addition to existing portfolios.[1]
Data shows that the average difference between a two and three bedroom home in the capital is £157,202, with the average bedroom extension costing £35,000. Additionally north of the border, the average asking price difference between two and three-bedroom properties is currently £45,949, underlining the potential profits to be made through extension.[1]
Let there be light
Around 15% of builders questioned said that gaining access to light was the most current trend in home rebuilding. Householders are installing features such as bi-folding doors and fitting skylights in an attempt to make a room feel bigger.
However, homeowners wishing to improve space by carrying out a loft conversion should be aware that 36% of builders said that this was the top type of home improvement likely to go wrong. Adaptations to kitchens (19%) and bathrooms (26%) were also likely to prove problematic.[1]
In better news, 70% of all property improvements were found to be completed on budget and on time. Estimates indicate that 35% of home-improvement projects overrun their original timeframe, with 26% going over originally planned budgets.[1]
Commenting on the findings, Katie Lomas, head of Direct Line Home Insurance said that, 'extending homes or converting rooms to add light and space can add real value to a property, so can be worth the investment.' Lomas believes that, 'with the rising cost of house prices making it expensive to move, home improvements are a popular way to improve your living situation without breaking the bank.'[1]
She went on to say that, 'homeowners should take note of the advice provided by builders as spending a bit of extra time ensuring that they have an agreed plan and budget in place may significantly limit stress levels further down the line. Having good home insurance is important as improvements and changes to your home can impact your policy.'[1]
Lomas concluded by appealing to homeowners to, 'make sure you inform your insurer of any improvements you are planning before you make them as you may need to increase your cover or abide by additional exclusions, for the duration of the building work.'[1]
[1] http://www.propertyreporter.co.uk/property/extensions-are-the-most-popular-home-improvement.html?utm_source=Sign-Up.to&utm_medium=email&utm_campaign=21136-107717-Campaign+-+29%2F05%2F15