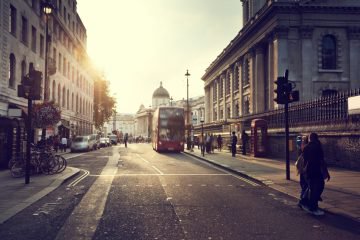 The soaring cost of renting in London is pushing private renters away from the centre of the capital. The London boroughs of Kingston, Bexley and Harrow are now experiencing the highest demand from prospective tenants.
Kingston upon Thames, South West London, attracts the highest amount of online rental property searches every day, with each advertised home being viewed online ten times per day.
This compares to just 4.6 views for properties in the City of London, which has the lowest rental demand, according to online property firm Rentify. The company has analysed data from all major property portals over the three months to the start of July.
Areas with the highest rental demand in London
| | |
| --- | --- |
| Borough | Online views per property per day |
| Kingston | 10 |
| Bexley | 9.9 |
| Harrow | 9.7 |
| Sutton | 9.5 |
| Enfield | 9.4 |
| Bromley | 8.9 |
| Hillingdon | 8.8 |
| Croydon | 8.7 |
| Richmond | 8.6 |
Greater London covers an area of around 600 square miles and has over eight million residents. It is one of the most crowded property markets of the UK. As the city is facing a serious housing shortage, affordable properties are harder to find in central London. This is pushing many people into the outer districts.
The average rent cost in Kingston is £1,326.49 per month, compared with £2,334.70 a month in the City of London, which is the most expensive area to rent in London.
Rents across the whole of London average £1,500 a month, however this varies hugely depending on the borough.
The second most popular area for rental searches is Bexley, South East London. Here, each property receives 9.9 online views a day. The borough has good transport links to inner London, but still has a suburban atmosphere, with over 100 parks and open spaces. It also has some of the most affordable rents in Greater London, with an average price of £1,026.20 per month.
Demand from students is high, due to the nearby University of Greenwich, amongst other colleges.
Amber Thompson is a 23-year-old dancer from Nottingham. She paid £390 a month to rent an ensuite room in a four-bedroom house between August 2013 and January 2015. In the past six months, she has been paying £650 per month for a tiny room on Tooley Street, near London Bridge. She is planning to move back to Bexley.
She notes: "Rent costs in Bexley aren't anywhere near other areas in central London. You can find a decent-sized four-bedroom house here for £1,500 a month. However, it's really competitive; the whole process took five or six weeks last time.
"Most viewings will have at least seven groups of prospective tenants looking round at once."1 
The second most expensive area to rent in London is the City of Westminster, with an average price of £2,181 per month.
Unsurprisingly, demand is lower in this area, with properties attracting just five views a day.
Tom Dymond, a 26-year-old freelance photographer moved to Oxford Street around three years ago. He pays £1,600 per month for a one-bedroom flat, which took just two weeks to organise.
| | |
| --- | --- |
| Borough | Average rent per month |
| Sutton | £1,016.83 |
| Bexley | £1,026.20 |
| Croydon | £1,084.79 |
| Kingston | £1,326.49 |
| Richmond | £1,364.30 |
| Hackney | £1,451.79 |
| Wandsworth | £1,682.68 |
| Kensington and Chelsea | £1,875.22 |
| City of Westminster | £2,181 |
| City of London | £2,334.70 |
He says: "I didn't find the process particularly competitive. The rents around here aren't the cheapest and the flat had been on the market for a while. I used to live in Shepherd's Bush and that was far more competitive. You could get 20 people turn up for a viewing."1
Average rents around London
Kensington and Chelsea accounts for just 1% of the capital's total area, but is another of the most expensive boroughs in London, with an average rent of £1,875 per month. Residents enjoy a thriving nightlife, including celebrity hotspot clubs.
However, the high cost of renting here is putting off aspiring tenants. Advertised properties attract just 5.3 online views per day.
Harrow, North West London, is an up-and-coming area. It is known for its independent school, but is also home to a range of semi-detached houses and flats with good transport links to central London.
The average rent here is £1,269.27 per month, a double-digit rise in the past year.
Chief Executive of Rentify, George Spencer, comments: "High rent prices in London are not a surprise anymore. But the figures show how tenants in certain areas of London are pretty desperate, sometimes visiting a property online up to 15 times a day.
"There is a severe housing shortage in the capital that becomes more evident in the peak rent season of late spring and early summer."1
1 http://www.telegraph.co.uk/finance/property/11751951/Revealed-the-London-suburbs-sucking-in-cash-strapped-renters.html?utm_campaign=Landlords%20%26%20Property&utm_content=18064052&utm_medium=social&utm_source=twitter