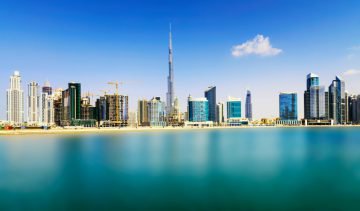 A well-known estate agent in Dubai that has recruited staff from the UK has gone bust.
British agents that were recruited this year, hoping for a better lifestyle and tax-free earnings, have lost their jobs, including some that started work this month.
Some new starters may never have received a pay cheque and are now stranded in the city.
At least one British agent sold a business in the UK to take his family to Dubai in search of a new life.
Other British agents who were due to start soon may have already flown to Dubai, and are now without jobs.
S & K Estate Agents, also known as Smith & Ken, went on a major recruitment mission this year, trying to tempt experienced British agents in a bid to improve its customer service.
One of the UK recruitment firms that found staff has been left unpaid for placing agents.
Rayner Personnel's Joshua Rayner, says: "I am out of pocket to the tune of two placements.
"As far as I was concerned, Smith & Ken was a well-established agent in Dubai, so this has come out of the blue.
"All I know is that when one of the people I placed went into work one morning, he found the doors shut without any explanation.
"I feel extremely sorry for him and those other people who were sold a dream."1
One of Rayner's candidates started work on 1st July and another on 7th July. A third was due to begin next week.
Several other British recruitment companies are also believed to have found candidates.
Allegedly, a total of 80 people have lost their jobs at Smith & Ken offices in Dubai and Los Angeles, and a liquidator has been appointed.
A statement on behalf of one of the shareholders reads: "Unfortunately we have had no other choice but to file bankruptcy and hand over accounts and any remaining income to our liquidator.
"Simply put, the revenue being generated by the business drastically reduced over the first half of 2015, without enough income to cover operational costs.
"Additional support, advertising, incentives and training had been provided to existing and new agents to try and aid their growth and development to increase sales."
The statement says that Smith & Ken had embarked on the recruitment drive in the UK as "a last resort."1
Apparently, poor service levels had caused complaints, which deterred repeat business and gave the firm a bad reputation.
The business is said to have been run remotely.
Although the Dubai housing market is competitive, the number and value of property transactions is dropping.
1 http://www.propertyindustryeye.com/british-estate-agents-in-search-of-better-life-stranded-in-dubai/