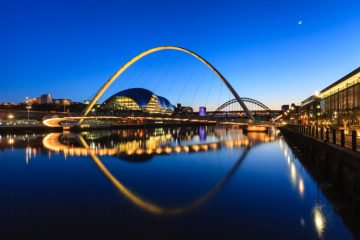 Fresh research has revealed that people in the North East of England are the most pessimistic in the UK when it comes to forecasting property prices.
A survey from Clydesdale and Yorkshire banks shows that 11% of homeowners in this region believe the value of their home will dip this year. This is five-and-a-half-times the national average and nearly double the total in the next most-pessimistic area.
Confidence
Data from the research indicates that confidence in the property market has cooled in the last twelve months. Fewer property owners are anticipating an increase in the value of their homes in comparison to the same period last year.
49% of people in the UK believe their property will have increased in value in another year, in comparison to 54% twelve months ago. On average, just 2% of people believe that the value of their property will fall, rising to 11% for the North East region.[1]
Scotland was the next most gloomy region, with 6% of people north of the border suggesting that their home will lose value in the coming year. [1]
Positivity
The most optimistic region when for property price forecasts was London, where 73% of homeowners expect a rise. 62% said the same in the South East, with just 42% in the North East.[1]
In addition, further research from the pair of banks indicate that just 12% of people are planning to move home this year, in comparison to 14% at the beginning of 2015 and 17% at the same period last year.[1]
'Our healthy sense of scepticism is one of many things which make the North East great but on this occasion, I don't think people need to be so downbeat,' said Ajay Jagota of sales and letting firm KIS. 'Our most recent research showed North East house prices rose at the fastest rate for nearly eight months in June, up 0.8% in just four weeks. Over the course of last year, they actually rose by 11% and it's far from unlikely that they'll end up having grown a similar amount by the end of this one,' he continued.[1]
Jagota believes that conditions in the market are, 'still practically perfect for property purchasing-depsite unemployment rising for the first time in two years this week.' He also said despite the threat of a rise in interest rates, the market is, 'enjoying historically low mortgage rates, non-existent inflation and rising wages.'[1]
Concluding, he stated, 'on top of that North Easterner's ability to buy a home is rising faster than the rest of the UK with average households having almost twice as much money left after paying the mortgage as people in London-there's plenty of cause for optimism.'[1]
[1] http://www.propertyreporter.co.uk/property/north-easterners-gloomiest-about-house-prices.html