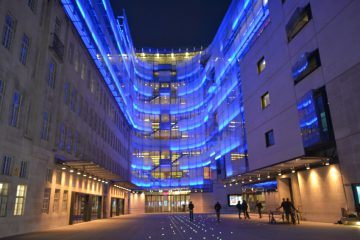 Flats at the BBC's former White City headquarters go on sale this month, in an area that developers are hoping will be equal to nearby Notting Hill and Holland Park.
Although the traditionally urban quarter, with dual carriageways and railway tracks, is worlds away from upmarket West London hotspots, it could soon become the area's biggest new district.
At Television Centre, an iconic example of mid-century modern architecture, property prices start at £500,000.
For the next six weeks, Studio 1 – where many programmes including Doctor Who and Top of the Pops were filmed – will be a marketing centre. Models and mock-ups of the finished apartments, with their 1950s-style interiors, will be part of a project that will be complete in ten years.
Around £8 billion of investment will transform the 145-acre White City into over 5,000 homes, a campus of academic expertise, a media village and an expanded Westfield shopping centre. The area will also feature landscaped public space and updated transport links.
The old 14-acre BBC site of buildings dating back to the 50s is being redeveloped by Stanhope into a neighbourhood of 950 homes, including 142 affordable flats, offices, a Soho House hotel and private members' club, including a rooftop swimming pool, cafes, restaurants and a cinema.
The first 450 homes are being created in the listed circular-shaped block. The building's round courtyard features a statue of Helios, the Greek sun god.
Around this central ring are original studios, scenery blocks and engineering sectors, some of which will be refitted before they are given back to the BBC in 2017. Viewed from above, the entire complex forms a question mark, the design of architect Graham Dawbarn, who doodled the shape on the back of an envelope.
It was the world's first custom-built television and radio compound, with 400 offices for 3,000 people, dressing rooms for 600 artists, seven studios, wardrobe space for 16,000 garments, laundry rooms, a hair salon, make up and wig-making departments, script and music libraries, a band rehearsal room and a phone exchange.
The round block measures 500 feet in diameter, with a basement of three-and-a-half acres, part of which will become a spa and health club for residents.
One-bedroom flats are priced from £650,000 and a penthouse with terrace will cost £7m.
Most of the affordable homes will be sold to locals, at 75% below the market rate. There will also be ten affordable rental properties.
The first phase of development will be finished in December 2017, by which time the Television Centre will be up and running 24/7. Also, for the first time, it will be open to the public. The previously off-limits complex is being opened up at the front with new landscaped areas. At the back, a green pedestrian route will lead to the four-acre Hammersmith Park.
Prospective buyers can register their interest online at televisioncentre.com.
White City was initially created for a specific purpose, to house The Franco-British Exhibition of 1908, where its white marble-clad pavilions and mini-palaces gave it its name. In the same year, it hosted the Olympic Games and became the BBC's home after the Second World War.
Hammersmith & Fulham Council's proposal is to tame the busy roads and railway lines by making the area more green, improving public spaces and creating pedestrian routes to local train stations.
Westfield started the redevelopment when it built its huge shopping centre. The firm is starting work on its second phase of 1,347 new homes and the biggest ever John Lewis store, opening in 2017.
Developer St James is demolishing a Marks & Spencer warehouse to build a 1,465-property, 10-acre neighbourhood named White City Green. The firm has started a consultation with local residents and is participating in design workshops, with ideas submitted by local secondary school pupils.
Locals state that they would benefit from an easier route to the Westfield and Wood Lane Tube station. Thus, a new bridge and pedestrian deck is being built above the over-ground track of the Central line, and blocked railway arches are being knocked through. 30% of homes in the scheme will be affordable.
The project's architects, Patel Taylor, has created a living-in-the-park concept, to form a central green that will run through the development and connect to the Imperial College campus.
The university is investing £3 billion in a top quality research and innovation centre, mixing commerce and science. The 25-acre campus will span both sides of the A40 and bring 11 new modern buildings and 1,150 homes set around two public squares. Accommodation for 500 postgraduate students is already complete.
Alistair Shaw, Managing Director of Stanhope, says the aim of Television Centre is to fuse the site back into the local area. Stanhope has also acquired a 17-acre plot that will become White City Place, with up to 1.5m square foot of offices.
The schemes hope to attract buyers who would previously have looked no further than Shepherd's Bush roundabout. However, prospective buyers will have to wait a decade for construction to be complete.