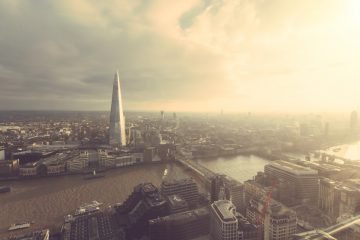 For the first time ever, more people in the capital live east of London Bridge than west, predominantly due to the surge in development around Docklands.
Tens of thousands of new properties are in the pipeline at Royal Docks, Greenwich Peninsula and Woolwich. The homes are all connected by the Thames, which is being reinvented as a vital transport link, boosted by a plan to launch a new fleet of river buses, which will cover more routes.
Since the old commercial docks closed in the 1970s, the once-polluted river and surrounding industrial land have experienced great change, with regeneration projects, including modern waterfront apartments.
Tom Burke of Savills Waterfront, a specialist division of the estate agent, comments: "Once you catch the riverside bug, you'll never want to live anywhere else."1
Thames Clippers services carry 10,000 commuters per day and even City workers, who formerly favoured Knightsbridge and Kensington, are moving to the riverside.
Traditionally, east of Tower Bridge is cheaper than the central and western parts of the Thames. It is also more convenient for those working in the City or Canary Wharf.
Eight river bus piers between Tower Bridge and Woolwich enhance improving neighbourhoods, where buyers can find riverfront homes costing under £500,000.
Shad Thames 
Shad Thames features Victorian wharves and warehouses that have been converted into flats. It is known as the most charming part of Docklands.
One-bedroom apartments facing the Thames start at £650,000, but buyers can find homes in blocks further away for £430,000. Two-bed flats typically cost between £700,000-£1m and at least £1.5m for something spectacular.
The renovated Hop Studios in Jamaica Road has an attractive Victorian brick façade with arched windows and cargo doors. Within are new two-bed apartments priced from £1.2m.
Rotherhithe
Rotherhithe is 25% cheaper than Shad Thames and has been up-and-coming for 30 years. It is now a certified fashionable area.
London taxi firm Addison Lee states that Rotherhithe is the capital's "destination hotspot"1, after it saw a 170% rise in passenger journeys to the area in the last three years.
Disjointed areas are being joined together and a busy waterfront district is being formed at Canada Water.
South Dock Marina is London's largest, with 200 berths and a watersports centre. There is also a river shuttle bus to Canary Wharf. Sellar Group, the developer of the Shard, is building 1,030 homes in partnership with Notting Hill Housing in the area.
St Marychurch Street is now a charming cobbled conservation area, but was the space that the Pilgrim Fathers left for North America from in 1620.
The eastern side of Rotherhithe Peninsula, bordering Deptford, has a different atmosphere. Most of the area was demolished and infilled when the docks closed. Regeneration stopped a few years ago, but builders are back in.
Marine Wharf, which has 566 homes, boasts innovative design and draws on the area's industrial heritage. Intertwining apartment blocks with central courtyards are clad in warm brick and rusty steel panels, with prices starting at £430,000.
Ryan Gregory, a 29-year-old equity analyst, chose to buy in Rotherhithe after leaving his family home in Brentwood, Essex. He looked for an affordable area with good investment opportunities close to the City and Canary Wharf.
He purchased a two-bed apartment at a development that had a gym and concierge. He says: "The river bus is great. Greenland Pier is a five-minute walk from where I live. It's stress-free and I always get a seat."1
Wapping 
Wapping is located just below Tower Bridge and runs east to Shadwell Basin. The area closest to the City has both old and new homes, overlooks two yacht basins and is the priciest part.
London Dock is a 1,800-home project being built on an ex-printworks site that spreads 15 acres. It will open up new pedestrian routes to the river and include a public square, cafes, restaurants and a new secondary school. Homes start at £869,950.
After decades of abandonment, a listed riverfront warehouse next to Wapping Tube station is being converted into 37 loft-style apartments. The homes are priced from £1.4m.
Limehouse 
Limehouse is traffic-free and therefore fairly quiet. Two-bed flats at Canary Gateway cost from £520,000.
Limehouse Cut, the capital's oldest canal, was created to form a shortcut between the Thames and the River Lea in Bow.
Royal Quay, on the banks of the canal, is a new scheme of 90 homes, set behind original warehouse facades. Flats feature exposed brick and high ceilings and start at £417,600.
Greenwich 
North Greenwich features a new district of 10,000 homes, a pier and its own beach and yacht club.
Greenwich Millennium Village is a collection of apartment blocks near a nature reserve and park. Buyers can find flats priced from £350,000.
Knight Dragon, a Chinese developer, is building five villages joined together by green space, squares, public art and a one-and-a-half-mile riverside promenade. New skyscrapers are under construction, with glass-clad apartments already available to buy off-plan. Prices begin at £300,000 for a studio and increase to £1.95m for penthouses.
Telegraph Works is being regenerated as part of a wider improvement of the riverside strip between the historic town centre and Greenwich Peninsula. The site dates back to the Tudor era, when it was a gunpowder store during Elizabeth I's reign. It later became a sail and rope-making factory and then manufactured telegraph cables. Most recently, it was a tin foil factory that closed in 2013.
The complex is now being redeveloped into 256 properties within four buildings, including an 18-storey tower. Homes start at £300,000. A cruise liner terminal is also in the pipeline.
Canary Wharf 
New waterfront homes in this area include 10 Park Drive, the first residential scheme within the Canary Wharf estate. It contains 345 apartments in two linked towers that boast a sky terrace, spa and gym. Prices start at £395,000.
South Quay Plaza has 888 homes and features one of the tallest towers in Britain, a 66-storey glass-clad skyscraper with residents club, private cinema and spa on the 56th floor. Homes are priced from £490,000. Completion is expected in 2020.
Woolwich
Woolwich, in southeast London, is an upcoming area thanks to Crossrail and the growing Royal Arsenal Riverside. An ex-munitions factory, the development is being renovated into a 5,000-home residential quarter, with listed buildings being restored across the 88-acre site. Completion is set for 2030.
Woolwich is also set to become a major transport hub. New waterfront apartments have also been launched, costing from £367,500.
1 http://www.homesandproperty.co.uk/property-news/new-homes/riverside-homes-london-thousands-new-waterfront-homes-planned-seven-key-thameside-districts