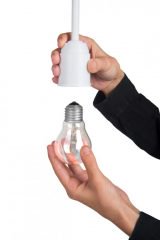 A couple were left shocked after they found out their letting agent had charged them £22 to change two light bulbs.
Julia Irvine, 32, and John Watson, 29, said the situation was "laughable".1
Upon looking at the breakdown of costs, they realised they had been charged £17.50 in labour.
The job was among repairs conducted when they left the flat in Bristol earlier this year.
The agent, CJ Hole of Clifton, said: "Damage costs and contractor fees can and do vary according to need."1 
1 Stichbury, T. (2015) 'Fury over £22 bill to fit 2 light bulbs', Metro, 7 August, p.25