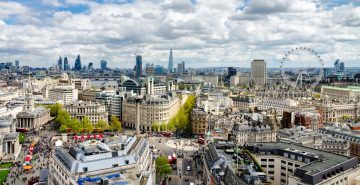 Greenwich and Waltham Forest are currently the best London options for renters looking for a mix of rental affordability and job prospects, according to international rental marketplace Spotahome.
It analysed data on current job opportunities within five miles of each London borough. On average, it found that there are currently 11,280 jobs per borough.
There is, however, a far higher level of job opportunities in 11 boroughs, where you can currently find between 25,740 and 29,631.
Spotahome found Westminster to have the most job opportunities on offer, with almost 30,000 within five miles of the borough.
Lambeth also ranks high with 29,546 current roles available, along with the City of London (29,045), Camden (28,875) and Islington (28,788).
However, due to their largely central locations, 10 of the 11 boroughs with the most job opportunities within five miles are also home to an average rent above that of the London average.
Both Waltham Forest (26,490) and Greenwich (25,740) have a considerable level of available job roles within five miles of each borough. With an average rent of £1,476, Greenwich is only marginally higher than the London average, while Waltham Forest comes in 7% more affordable at £1.352.
UK and Ireland Country Manager of Spotahome, Nadia Butt, commented: "Despite a Government U-turn on returning to our physical workplaces, many tenants heading to the capital continue to be motivated by the availability of work and the ability to rent within a commutable distance to their workplace.
"As with most aspects of living in London, a higher level of job opportunities within a short distance does command a higher level of rent, however, for those that do their research this doesn't have to be the case.
"Both Greenwich and Waltham Forest offer everything you could want when renting in London. Both boroughs are home to relatively affordable rental prices, an abundance of green space, social amenities and great transport links.
"In what are currently tough times for those searching for a job, they also offer the greatest wealth of employment opportunities within a five miles radius."
Table shows the current level of job opportunities advertised within five miles of each borough and the current average rent
London Borough
Current job opportunities within 5 miles
Average rent per month
Havering
552
£1,169
Enfield
975
£1,292
Barnet
985
£1,499
Bromley
1,221
£1,307
Bexley
1,307
£1,092
Hillingdon
1,449
£1,200
Barking and Dagenham
1,520
£1,208
Redbridge
1,711
£1,311
Harrow
2,027
£1,387
Croydon
2,108
£1,140
Sutton
2,223
£1,151
Merton
2,313
£1,640
Hounslow
2,467
£1,352
Kingston upon Thames
2,706
£1,306
Newham
3,540
£1,453
Lewisham
3,606
£1,316
Brent
4,313
£1,502
Richmond upon Thames
4,560
£1,835
Ealing
4,752
£1,569
Wandsworth
5,724
£1,958
Hammersmith and Fulham
6,594
£2,117
Kensington and Chelsea
6,989
£3,023
Greenwich
25,740
£1,476
Waltham Forest
26,490
£1,352
Southwark
26,925
£1,718
Hackney
27,588
£1,842
Haringey
27,652
£1,669
Tower Hamlets
28,328
£1,835
Islington
28,788
£2,003
Camden
28,875
£2,302
City of London
29,045
£2,274
Lambeth
29,546
£1,908
Westminster
29,631
£3,046
London Average
11,280
£1,450
Data Sources
Indeed
ONS