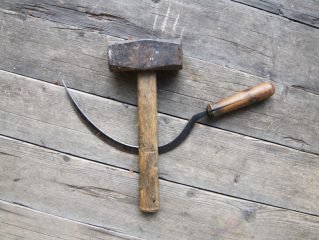 A small socialist party that believes in the abolition of money has around £1.3m in cash and property.
The Socialist Party of Great Britain has just 300 members, but cash reserves of £452,250 and property worth £900,000, its latest accounts reveal.
The Party was founded in 1904, making it one of the oldest in the UK, and is based on Clapham High Street.
It purchased the shop in South London in 1951 for around £3,000.
However, due to the London property price boom, the value of its asset increased by £400,000 in just one year.
Adam Buick, media spokesperson, who joined the Party in 1962, says there is no contradiction between its socialist beliefs and its capitalist finances.
He says: "We live in a capitalist society and you need money to survive in a capitalist society. We are not a charity, we are not giving it away to the poor, we are using it to propagate the case for socialism."
The Party does not have leaders, but aims to use politics to create a mass socialist movement.
Buick says that the Party is regularly approached by estate agents and property developers, who urge them to sell the headquarters, which is surrounded by restaurants and fashionable shops.
Some members are in favour of selling the premises and moving to a cheaper, less high profile area, and others argue that the Party's funds should be put into an investment account. However, they will not invest in the stock exchange.
Buick adds: "That would be going too far, although there would be some members who wouldn't necessarily be against that."1 
He says that the Party has only recently started having its accounts fully audited, including an estimate of its property worth, to comply with Electoral Commission regulations.
Additionally, the Party has benefitted from generous bequests from members.