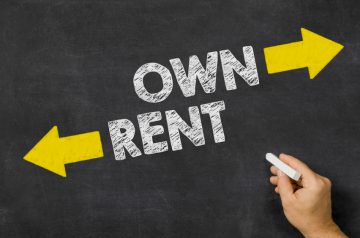 The private rental sector accounts for 19% of all homes in England, surpassing the social sector at 17%, revealed the English Housing Survey.
The Department for Communities and Local Government report covers the year 2013.
In 1996, only 10% of housing stock was privately rented, says the study.
Comparatively, the amount of local authority properties dropped from 3.5m in 1996 to 1.7m in 2013.
The report shows that between 1996-2013, the total number of homes in England rose from 20.3m to 23.3m.
Most of this growth, it states, was caused by the expansion of the private rental sector, which more than doubled in size from 2m to 4.5m.
During the same period, the number of social rental homes – local authority houses and housing association properties – fell from 4.4m to 4m.
The amount of owner-occupied homes increased between 1996-2013, by 800,000 to 14.8m, accounting for 63% of the total housing stock.
In London, the housing market is very different. 49% of homes are owner-occupied and 27% privately rented. Flats are also much more common, accounting for 49% of the housing stock, compared with 16% elsewhere in the country.
The report claims that the growth of the private rental sector was caused by several factors, including a decrease in the number of people getting onto the property ladder due to high house prices, stricter mortgage lending and relatively low wage growth. The average tenant in 2013 spent 43% of their income on rent.
The decline in the supply of local authority housing has also contributed to the rise of the private rental sector.
Director of flat and house share website SpareRoom.co.uk, Matt Hutchinson, says: "This paints a bleak picture for renters who had any hope of buying. For rent to be classified as affordable, it has to be less than a third of a person's income, so spending 43% on rent makes budgeting extremely hard.
"Rents are now so high that many will find saving is close to impossible, putting homeownership still further out of reach.
"The situation for renters is becoming more and more indiscriminate. We're not just talking about young professionals who can't buy – families who crave stability for their kids are impacted too.
"The housing crisis is transforming the whole country, moving us towards becoming a nation of renters."1
The report, exploring other issues such as empty properties, first time buyers and homes suitable for disabled people, can be found here: https://www.gov.uk/government/uploads/system/uploads/attachment_data/file/445370/EHS_Profile_of_English_housing_2013.pdf.
1 http://www.propertyindustryeye.com/private-rented-sector-supplies-nearly-one-in-five-of-all-homes/