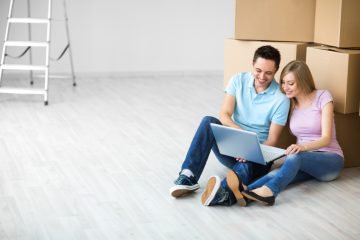 The amount of homes on the market dropped to a 37-year low in June, driving prices up by 1.7% over the month.
These figures have caused concerns that prices will surge to increasingly unaffordable levels.
Surveyors have said that the number of properties for sale with each of its members is at the lowest level since records began in 1978. Britain's biggest mortgage lender, Halifax, also reported that the average UK house price has surpassed £200,000 for the first time on its measure, due to an unexpected 1.7% rise in June.
The Royal Institution of Chartered Surveyors (RICS) states that the average number of homes for sale with each member has fallen to 49.5 from 61 last June and is down from a record high of 148 in 1996.
It says the causes of this vary around the country. In expensive parts, high Stamp Duty costs and other fees make it more appealing to renovate or extend homeowners' current properties than move. It also says that lack of housing stock is a vicious cycle, as people do not want to sell because there aren't homes to move into.
Demand for homes rose in every region except the South East, and RICS says that its members are more positive about sales growth than at any point since April 2014.
The difference between supply and demand is keeping prices steady and RICS says that the number of members reporting price rises has reached an 11-month high. In total, 41% more surveyors said they expect house prices to increase in the next three months; the highest proportion in over a year.
Chief Economist at RICS, Simon Rubinsohn, comments: "There had been some hope that the removal of political uncertainty following the general election would encourage more properties onto the market but the initial indications are that this is not proving to be the case.
"Additionally, the recent flat pattern of appraisals by respondents to the survey suggests this is not about to change anytime soon. As a result, it is hardly surprising that prices across much of the country are continuing to be squeezed higher, with property set to become ever more unaffordable."1 
Halifax's monthly data, based on mortgages it has approved during the month, indicates that prices have risen for the fourth consecutive month, and are now higher than the previous pre-crisis peak.
During the quarter, prices were up by 3.3%, the largest three-month increase since November 2009. The lender says that the average UK house price is now £200,280, which is the first time it has passed £200,000 since it began recording in 1983.
Housing Economist at the Halifax, Martin Ellis, says lack of supply of homes for sale is driving up prices: "This shortage has been a key factor maintaining house price growth at a robust pace so far in 2015.
"Economic growth, higher employment, increasing real earnings growth and very low mortgage rates are all supporting housing demand, with signs of a recent modest pick-up in demand."1 
This sudden increase in June has caused a significant rise in the annual rate of inflation to 9.6%, compared with 8.6% in the previous month. Annual house price growth is back to levels seen in September 2014 and has caused economists to re-evaluate their predictions.
Chief Economist at IHS Global Insight, Howard Archer, described Halifax's latest report as "a bit of a stunner."
He continues: "Our current forecast is for house prices to rise by 6% over 2015, but the Halifax data at least suggests that this may be too conservative a projection."1 
However, Archer warns that data from Halifax may be more unpredictable than other house price measures and that no one should place too much trust on one particular house price survey or measure.
Property Economist at Capital Economics, Matthew Pointon, says that future house price gains are anticipated over the rest of the year.
However, he adds: "We doubt prices will be able to continue to rise at this breakneck pace."
He says that mortgage lending is unlikely to relax substantially and the Bank of England's recent concerns over buy-to-let "should prevent a surge in active housing demand and keep house price gains to around 6% this year."1
1 http://www.theguardian.com/business/2015/jul/09/shortage-homes-uk-market-prices-up-june