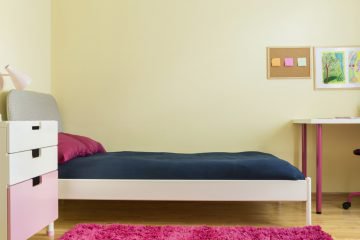 Tenants in London have to share bedrooms, sometimes with complete strangers, to combat the spiralling rents of the capital.
Flat and house share website SpareRoom.co.uk has experienced a 71% increase in searches for bedroom shares in the last two years.1
Matt Hutchinson, Director of SpareRoom, says: "We know many couples are sharing rooms in house and flat shares with other people to save money, but there's also a rising number of single people sharing rooms now too.
"Few people would choose to share a room, but the harsh reality is that London's housing crisis means rents are becoming increasingly unaffordable."1
A twin room in West London is being listed at £259 a week per tenant. Bunk beds are also being offered as twin rooms in some instances.
Another website, Kangaroom, which helps people find spare rooms, had 93,505 adverts placed on their site in 2014 by those looking to share either twin or triplet bedrooms. This was a 48% rise on 2013.1
Founder of Kangaroom, Jinder Sidhu, says that bedroom shares now make up over 10% of the market.
Sidhu explains: "While rent prices in general rose by 7.5% in 2014, room share prices have decreased by 12% due to increased supply and denser living conditions."1
Tove Eriksson and Francesca Whitlock, both 25, met at the University of Leeds. After they graduated, Eriksson moved back home to Sweden and Whitlock, from London, taught English in Chile.
Last year, they both looked to move to London. Researching prices, they found that the only option in their price range was sharing a bedroom. Their friends and family were shocked when they revealed the situation.
Eriksson is a project coordinator for a women's rights theatre project. It is a paid role, but is only part-time. She works as an office temp the rest of the time. Eriksson was hoping that she would earn enough for her own bedroom, but admits this could be a long way off: "I'm dependent on sharing. It's either sharing a room or not living [in London]."1
Whitlock is beginning work as a campaigns intern at the Climate Coalition, and thinks living in the capital is the only way she will build a career in the area she is passionate about. She says: "It's tricky; you feel you have to be here, but you have to pay absurd rents."
Both girls have expressed how lucky they are to be sharing with a friend. Whitlock comments: "To share with someone you don't know, I don't want to use desperate because that's not a nice word to use, but what a horrible situation to be in if there is no other way you can live."1
Housing and rent campaigners have said that the trend is worrying, but inevitable.
Housing charity Shelter's Chief Executive, Campbell Robb, says: "With our housing market out of control and rents sky-high, it's no surprise that people across the capital are having to resort to these sort of measures just to keep a roof over their heads.
"But it's simply not right that people are being forced to share their personal space with someone they barely know just so that they can make ends meet each month, let alone save money to build a stable future.
"The only way to end this madness is for politicians to roll up their sleeves and commit to building the genuinely affordable homes we so desperately need."1
The March for Homes on 31st January will see tenants, trade unionists and campaigns march on City Hall, London, in a bid for Boris Johnson and councils to tackle the lack of affordable homes in the capital.
1 http://www.theguardian.com/money/2015/jan/25/london-tenants-forced-to-share-rooms