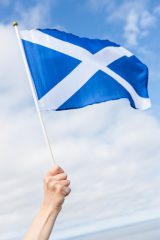 Declines in homeownership and social housing have caused the private rental sector to boom in Scotland.
The new Scottish Household Survey 2014 reveals that the social rental sector dropped from 32% of all households in 1999 to 24% last year.
Over the same period, the proportion of households in the private rental sector almost tripled from 5% to 14%.
In 1999, 61% of Scottish households were owner-occupiers. This hit 66% in 2007, but has now dropped to 60%.
The total number of households in Scotland has increased by 11% since 1999, to 2.42m last year.
Homes for Scotland, a builders trade body, claims that the fall in homeownership is the result of a change in circumstance and not a change in aspiration.
Chief Executive of Homes for Scotland, Philip Hogg, says: "Those in the squeezed middle have been left with little option other than to rent privately following a more than 40% fall in home building activity since 2007, coupled with the difficulty many who wish to buy still face in terms of getting large mortgage deposits together."1
The report can be found here: http://www.gov.scot/Publications/2015/08/3720
1 http://www.propertyindustryeye.com/private-rented-sector-in-scotland-triples-as-home-ownership-falls/