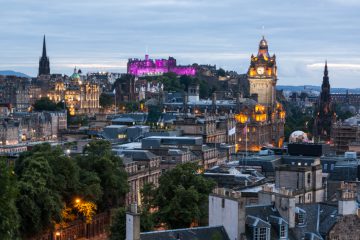 A tenancy deposit scheme approved by the Scottish Government has received over £300,000 in student accommodation deposits, as the new academic year begins.
SafeDeposits Scotland holds more than half of all deposits in Scotland's private rental sector. It is protecting over 1,200 new deposits from the student accommodation provider, the Student Housing Company.
The majority of the deposit funds came from students living in three Student Housing Company blocks in Edinburgh, serving the University of Edinburgh, Edinburgh Napier University, Queen Margaret University and Heriot-Watt University. Additionally, it has taken deposits from those living in the new 241-room Ayton House in St Andrews, for students studying at the University of St Andrews.
Chief Executive of SafeDeposits Scotland, Jen Paice, says the deal with the Student Housing Company is a major endorsement for the business, which currently holds over £64m in deposit money.
She continues: "We're delighted to be appointed by the Student Housing Company to safeguard these deposits. The student accommodation market is hugely important not just to Scotland's private rented sector, but to our economy in general, so it's crucial that students are properly looked after and treated fairly as they embark on their academic year.
"The Student Housing Company has, since its inception, been about improving the standards of the student accommodation market and raising people's expectation of it, so the fact they have chosen to invest such a large chunk of their business with SafeDeposits is a real testament to how far we've come in our first three years."1 
General Manager of the Student Housing Company in Scotland, Stuart Henderson, says: "We're delighted to be working with SafeDeposits Scotland and have faith that they will keep our student deposits safe and secure according to the Scottish Government's tenancy deposit schemes.
"It's of upmost importance that our students have the best experience possible when staying with us and we hope that working with SafeDeposits Scotland will be beneficial to the great service we already provide."1
Launched in 2012, SafeDeposits Scotland served the introduction of the Scottish Government's Tenancy Deposit Schemes (Scotland) Regulations. It is the only not-for-profit of the three Government-approved schemes and the only one based in Scotland.
The firm is set to launch a new trust later this year, to invest its profits in the improvement of Scotland's private rental sector.
1 http://www.propertyindustryeye.com/scottish-deposit-scheme-receives-300000-in-student-deposits/