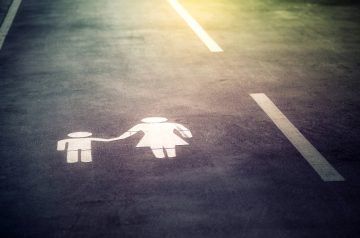 One in four parents have moved house or changed address to secure a school place for their children, revealed a new study.
Additionally, one in six survey respondents revealed that they have bought or rented a second property within a school catchment area.
The survey questioned almost 1,100 parents of school-age children and was conducted by Opinium Research on behalf of Santander.
Some parents are willing to pay a substantial premium to buy a home close to their desired schools, according to the research.
Using data from the Land Registry and the Registers of Scotland, the study found that parents are prepared to pay 18% more for a property near their preferred school, equivalent to £32,000 on the average house price of almost £180,000 in England, Wales and Scotland.
Those in London, where prices have surged above the national average, were more likely to pay a higher premium of £77,000 on a home costing £474,000.
However, those surveyed in the North East and Scotland pay the highest premium in terms of percentage – 21% higher in Scotland, adding £34,000 to the price and 21% in the North East, £21,000 higher.
In Wales, families pay a further 15%, or £17,000, on the average house price of £117,000. The only area where the school premium percentage was in single figures was Yorkshire and the Humber, at 8%, or £9,500, on top of the average property price of £123,000.
Santander's UK Managing Director of Mortgages, Miguel Sard, comments: "With competition for school places fiercer than ever, parents are making significant financial and lifestyle sacrifices to be within the catchment area of desirable schools.
"All buyers will have a wish list of what they want their new home to have, and being within a certain school catchment is increasingly common among young families but can often come at a cost."1
Many parents studied who had bought a new home said they had to work extra hours or change jobs as a result. One in four of the 287 buyers claimed that they had "paid significantly more for a property" than they could afford.1 
Most state schools in England and Wales admit pupils based on their proximity to the school, meaning that the closer a child lives to the school, the more likely they are to secure a place.
The recent baby boom in England has put added pressure on school places, particularly for the parents of primary school age children in South East England and in cities such as Birmingham and Brighton, which have seen huge growth recently.
Of the parents with children aged four to 18, around 10% said they had sold their old home and moved to a new one within their preferred school's catchment area.
A further 11% reported that they had bought a second property in a specific catchment area and 5% had rented a second property for the same purpose. This practise is close to breaking the rules set by local authorities that govern admissions to schools in their area.
Councils typically require applications to be made from a child's main residence, and councils such as Camden and Islington have found numerous examples of parents using mail-drop addresses to appear closer to their favoured schools.
In a high-profile case in North London, a couple bribed a builder, who was refurbishing a property near a highly desirable school, to forward mail to their real address. However, they lost their school place when neighbours caught them out.
Most of the time, local authorities require evidence of Council Tax payments and electoral-roll registration as proof of address, meaning that parents are still able to rent or buy a property in a catchment area, so long as they are not paying Council Tax on a second residence.
The study also revealed that a similar number of households are considering moving within the next two years to secure a school place, with 8% hoping to buy a house near a school and 17% willing to buy or rent a second property.
The data also shows that parents of younger children are more likely to move than parents with children aged over 11.
1 http://www.theguardian.com/education/2015/sep/02/one-in-four-families-move-house-to-secure-school-place-survey