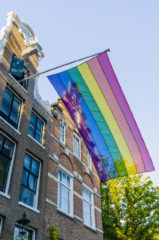 Support from within the property industry is being given to akt, a charity that helps LGBTQ+ people aged 16-25 facing or experiencing homelessness or living in a hostile environment find a safe place to live.
Throughout June, property portal Do Some Good is raising awareness around doing more to help such people find a safe home. The portal was set up by professionals from SAY Property Consulting, deverellsmith and Greystar to pool real estate support during the COVID-19 crisis.
Since the outbreak, akt has seen a spike in cases due to young people being confined and inadvertently, or forcibly, being outed to families and guardians who disapprove of an individual's sexuality. This has left a significant number of young people helpless with nowhere to go, with families threatening and enacting verbal and physical violence.
In the month where Pride would usually fill the streets with positive light, laughter and rainbow flags, the property industry has the opportunity to support the LGBTQ+ community by:
Joining Do Some Good's LinkedIn #seemenow visibility awareness campaign
Fundraise for resources and supplies
Offer safe housing and space for LGBTQ+ people impacted by COVID-19
The #seemenow challenge encourages participants to speak out on why visibility is important to them through a selfie with a home-made sign.
Andrew Deverell-Smith, founder and CEO, deverellsmith commented: "The property industry must come together to support the LGBTQ+ community and we're proud that Do Some Good is pledging to support these young people during these difficult times.
"We're also proud to launch the #seemenow campaign to raise the visibility of LGBTQ+ professionals in property. Our industry has become much more inclusive and diverse over the last few years, but it's crucial that we keep on raising awareness to make sure that real estate attracts and supports talented people no matter their background, sexuality or race."
Debra Yudolph, partner at SAY, commented: " Property must commit to being inclusive and diverse as an industry. The fact that so many LGBTQ+ property professionals feel that not enough is being done to promote the visibility of the community is something we must all address. I'm proud that Do Some Good has launched the SeeMeNow challenge to help raise awareness of this issue."
Adina David, director of Flexible Housing, Greystar, said: "The COVID-19 crisis has highlighted inequality in many parts of our society and for minority groups in particular. It is heart-breaking to see that in 2020 members of the LGBTQ+ community are still struggling to feel safe and are lacking decent shelter. We hope to see businesses across the real estate industry unite behind this cause and support akt's essential work."
akt is providing young LGBTQ+ people with a safe space through Purple Door, the UK's first emergency accommodation for LGBTQ+ youth.
Purple Door provides the safety and space for young LGBTQ+ people to secure longer-term housing, employment, training and support with money management, whilst learning to live independently.
The property industry can pledge its support and offer space to Purple Door through the Do Some Good portal.
According to a survey by Estates Gazette, 81% of LGBTQ+ property professionals felt that not enough was being done nationwide within the industry to promote the visibility of the LGBTQ+ community.