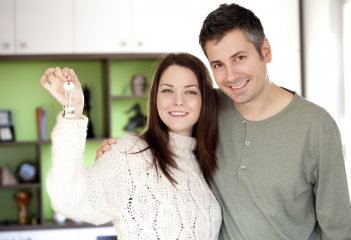 The amount of first time buyers stepping onto the property ladder rose by more than a fifth last year, rising to a seven-year high.
The Halifax First Time Buyer Review revealed that the number of buyers joining the UK housing market for the first time increased by 22%, to 326,500 in 2014, adding to the 23% rise the previous year.1
The average price of a home bought by a first time buyer also increased, by 9% to £171,870 compared to a year ago. However, the average deposit for first time buyers dropped by 7% over the same period, to £29,218.1
House prices rose in the first half of 2014, stimulated by initiatives such as the Government's Help to Buy scheme. The second half of the year saw fears of another housing bubble cause the Bank of England (BoE) to enforce stricter lending limits on borrowers, in an attempt to calm the market.
Mortgages Director at the Halifax, Craig McKinlay, says: "First time buyers are vital for a properly functioning housing market.
"Improving economic conditions and rising employment levels have boosted confidence among those thinking about getting on to the housing ladder for the first time, contributing to the significant increase in the number of first time buyers in the past two years."1
The report also revealed that Chancellor Osborne's changes to Stamp Duty last month have cut the average first time buyer's tax bill by £781.1
The average deposit dropped to 17% of the purchase price last year, down from 20% in 2013. This is still considerably higher than the 10% in 2007, when the average deposit was £17,499.1
The study also found that the most affordable local authority in the UK is Larne in Northern Ireland, where the average property price is £80,793, which is 2.8 times the local average gross annual earnings.1
The highest local authority is Camden in London, where the average first time buyer's house price is £614,315; 11.4 times the gross average annual earnings of the area.1
The average age of a first time buyer was 30, up from 29 in 2011. The region with the oldest average first time buyer was London, at 32.1
Housing minister Brandon Lewis says: "It is good to see that our efforts to help aspiring homeowners are reaping results. Already, our Help to Buy schemes have supported more than 71,000 homebuyers, the vast majority of whom are first time buyers and we have kept interest rates low.
"We have also got Britain building again with house building at its highest level since 2007, and planning permissions have been granted for 240,000 new homes in the year to September."1
1 http://www.theargus.co.uk/uk_national_news/11703182.print/