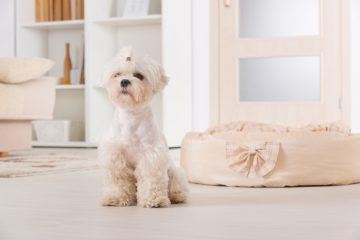 A lack of rental properties that permit pets has caused a huge price premium on deposits, according to recent research from a leading letting agent.
Prime central London agent EJ Harris conducted a Pets & Pads survey. It revealed that over the last five years, the amount of tenants with dogs in the capital has risen substantially. Additionally, a lack of supply of flats that allow pets is causing huge price premiums on deposits.
EJ Harris has experienced a significant increase in enquiries from dog-owning tenants. A decade ago, none of its tenants had dogs in London. Five years ago, 2% owned dogs. Three years ago, this was up to 5%, and doubled to 10% in 2013. Last year, it had grown to 20% and this year, 30% of all tenants looking for a rental home in the capital are dog owners.
EJ Harris states that rental accommodation supply is not keeping up with the growing demand for pet-friendly property. The firm found that 40% of all prime central London flats do not allow dogs, a condition that is written into the head lease.
The imbalance between demand and supply of pet-friendly homes has led to huge price premiums being demanded on deposits of flats that allow pets. The higher deposits are required to cover any damage caused by the pets.
EJ Harris revealed that on a one-bedroom flat in central London with a rent of £500 per week, the average deposit for a non-pet owning tenant is £3,000, compared to £5,000 for a tenant that has a dog.
On a two-bed apartment let for £1,000 a week, the typical deposit is £5,000, compared with £10,000 for a dog-owning tenant.
For a three-bed flat costing £2,500 per week, the deposit is £15,000 for an ordinary tenant, and £25,000 for a pet owner.
Furthermore, EJ Harris found that most London landlords that allow pets also include a professional cleaning clause in the tenancy agreement, which requires pet-owner tenants to make an additional, non-refundable payment at the start of the tenancy to cover the costs of sanitation and professional cleaning when they move out.
Managing Director of EJ Harris, Elizabeth Harris, explains the data: "We have seen a significant rise in the number of dog-owning tenants looking for private rental accommodation in central London.
"These tenants want luxury pads situated close to Hyde Park or the Regent's Park, where they can regularly take their pets for walks.
"Despite the stigma surrounding tenancies with pets, in our experience, tenants who own dogs make for reliable and responsible tenants who take good care of the property and keep their pets pampered and well trained. We always advise dog-owning tenants to create a pet CV that provides a detailed description of the pet and outlines key facts regarding behaviour, health and grooming, which can help alleviate the landlord's concerns."1
Do you rent property to pet owners? If so, are there any conditions you require?
1 https://www.landlordtoday.co.uk/breaking-news/2015/10/25k-premium-for-a-pad-with-a-pet